Kaalan (കാളന്)
Kaalan is a popular traditional dish of Kerala and it is a must in Kerala sadhya..It tastes great if you prepare this curry in a kalchatti(soapstone pots). Kalchattis are easily available in Kerala. Since i couldn't find good kalchattis here in Singapore,i prepared this in a normal cooking vessel. This curry is prepared with vegetables like plaintain and elephant yam in a coconut-curd mix and it goes well with kerala matta rice.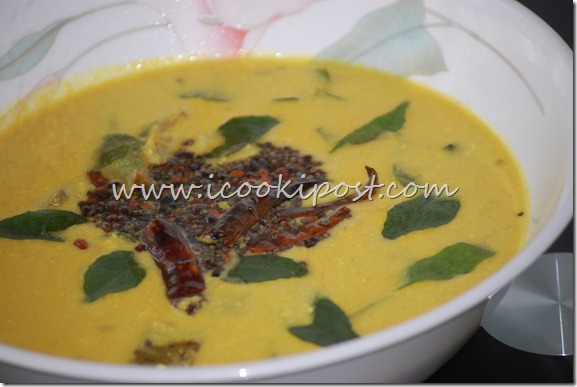 Ingredients
Plaintain(nenthrakaya) – 1 cup
Elephant Yam (chena) – 1 cup
Turmeric powder – 1 tsp
Green Chilly – 3
Curd(sour) – 2 cups
Red chilly powder – 1/2 tsp
Grated coconut – 1  cup
Cumin seeds – 1/2 tsp
Curry Leaves – 5 sprigs
Sugar – 1 tsp
Dry red chilly –4
Fenugreek seeds (uluva) – 1 tsp
Mustard seeds – 1tsp
Salt
Oil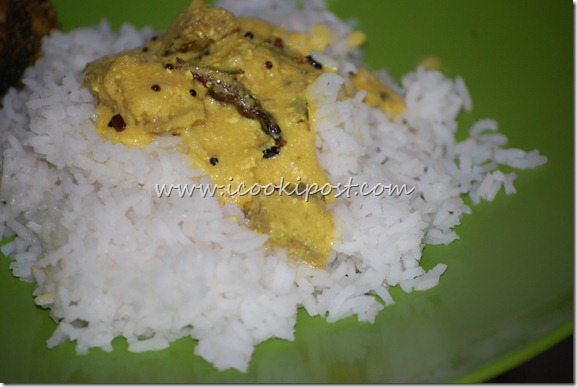 Preparation
In a pan,Cook diced plantain,yam with turmeric powder and salt till vegetables are soft.
Grind grated coconut,red chilly powder,cumin seeds,1 sprig curry leaves,green chilly into a smooth paste.
Once the vegetables are cooked well,add beaten sour curd and stir well to avoid curdling.When it is reduced to half,add coconut paste and let it boil.
Turn off the heat and add 1 tsp of sugar to it.Add curry leaves to it.
Heat oil in a pan. Splutter mustard seeds,dry red chilly,fenugreek seeds and add the seasonings to the curry.
Immediately cover with a lid for 15 minutes.
Serve with Rice.