Achaari Baingan
Achaari Baingan is eggplant pickled with the spices.This recipe is adapted from Nita Mehta's cook book.This tastes great with roti.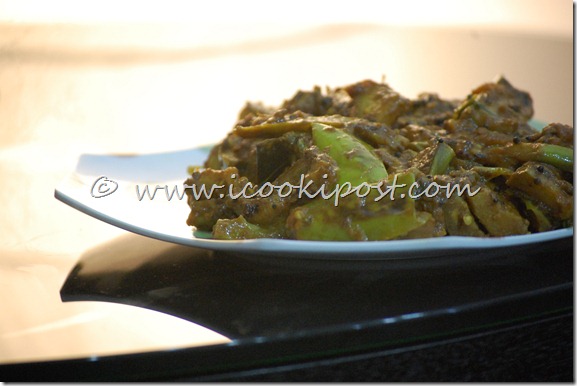 Ingredients
Brinjal(Aubergine) – 6
Tomatoes (finely chopped) – 3
Ginger-garlic paste – 2 tsp
Curry leaves – 15
Turmeric powder – 1/2 tsp
Red chilly powder – 1/2 tsp
Coriander powder – 1 tbsp
Asafoetida(hing) –a pinch
Fennel seeds(saunf) – 1 tsp
Onion seeds (Kalonji) – 1/2 tsp
Fenugreek seeds (methi dana) – 1/2 tsp
Mustard seeds – 1 tsp
Salt- 1 tsp
Oil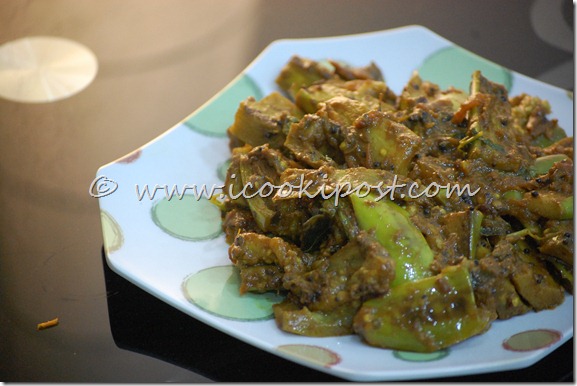 Preparation
Cut brinjal into half lengthwise and then into 1 " pieces.Deep fry till light brown.
Heat oil in a pan .Add ginger-garlic paste,curry leaves and fry for a minute.
Add asafoetida,fennel seeds,kalonji,fenugreek seeds and mustard seeds.stir till fenugreek seeds turns brown.
Add turmeric powder,chilly powder,coriander powder and salt.Stir for 30 seconds.
Add chopped tomatoes and stir for about 7-8 minutes or till oil separates.
Add fried brinjals.Sprinkle 1/4 tsp salt and stir gently on slow fire for a few minutes till well mixed.
Serve hot with rotis.