Bhindi Dakshini
Bhindi Dakshini is prepared with fried okra in a masala gravy and finally add fresh grated coconut to it as a garnish.This goes well with roti.This recipe is adapted from Nita Mehta's cookbook "Favourite Recipes".After having this yummy bhindi curry with chappathi ,this is one of my favorites too.:-)Enjoy!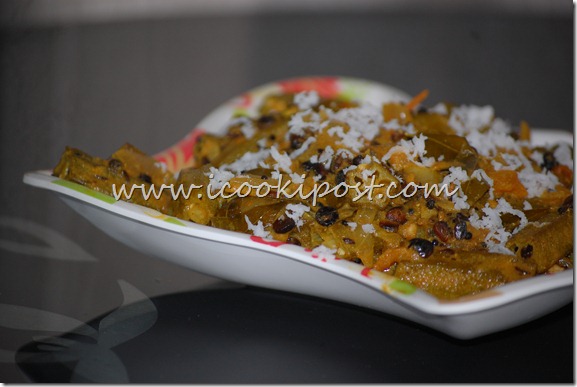 Ingredients
Ladies finger(Bhindi/Okra) – 250 gms
Onion(large,chopped) –1
Tomatoes(chopped) –2
Green Chilly (deseeded and chopped) –1
Chilly Powder – 1/4 tsp
Coriander powder – 1/2 tsp
Turmeric powder – 1/4 tsp
Thick Curd(beaten till smooth) – 3 tbsp
Chana daal – 1 tsp
urad daal – 1 tsp
Cumin seeds (jeerakam) – 1/2 tsp
Mustard seeds  – 1/2 tsp
Dry red chilly – 2
Curry leaves – 10 –12
Salt – 3/4 tsp
Oil
Grated fresh coconut – for garnish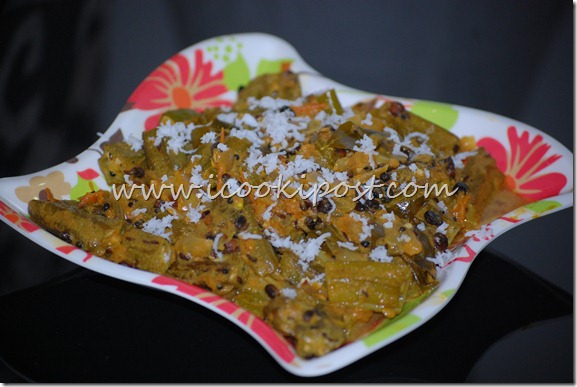 Preparation
Wash okra and wipe dry.cut the tip of the head of each okra leaving the pointed end as it is. Now cut the bhindi vertically from the middle making 2 smaller pieces from each okra.
Heat oil in a kadhai and deep fry the bhindi on medium heat in 2 batches..Do not over fry the okra ,it should retain its green color.drain on a paper napkin.keep aside.
Heat 2 tbsp in a pan. Add chana dal and urad dal and stir for a few seconds till it changes its color.
Add cumin seeds,mustard seeds and dry red chilies.once it starts to splutter add curry leaves,chopped green chilli and onion.cook till onion turns light brown.
Add the chopped tomatoes and cook for 2 minutes till soft.
Add the dry masala powders and fry for 2 minutes.
Add 1/4 cup of water and the fried bhindi.cover and cook for 1 minute.
Add beaten curd.cook on medium heat till the water from the curd evaporates.
stir for 3-4 minutes till the masala coats the bhindi.
Garnish with grated coconut.
serve with chappati and raita.