kallumakkaya/Kadukka Porichathu/Mussels Fry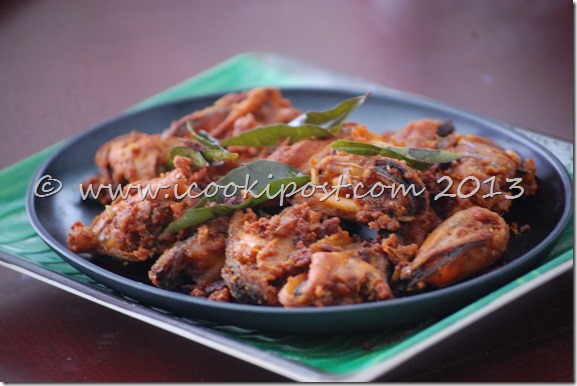 Ingredients
Kallumakkaya/Kadukka (Mussels) – 15 Nos.
Kashmiri Red Chilly Powder – 1 1/2 tbsp
Turmeric powder –  2 tsp
Pepper powder – 2 tsp
Fennel seeds – 1/4 tsp
Curry leaves
Salt
Oil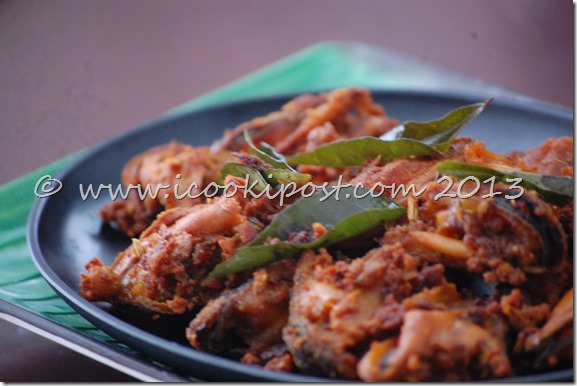 Preparation
Grind chilly powder, turmeric powder,fennel seeds,pepper powder with little water to a fine paste.
Marinated mussels with the paste and keep aside for 30 minutes.
Heat oil in a pan.Fry till brown in color.
Fry curry leaves in the same oil and garnish it.
Serve with Rice and Curry.
How to Clean Mussels
Soak the mussels  in cold water for 20 minutes to release sand .Remove the mussels from the water with a slotted spoon. Discard any with cracked or broken shells.
Place the mussels in a large sauce pan with enough water to cover and bring it to boil. Reduce to medium flame and boil for 3-4 minutes or  until the mussel shells have opened.Discard any that do not open.Drain the water and take out the mussel shells.
Scoop out the flesh from the shell.Cleaning the meat is a tedious process.
Remove the hairy thing also known as byssal threads by pressing the meat in the center  using your fingers(pic 3)  and the black colored dirt as shown in the pics below.The Hairy thing if consumed can  causes stomach problems.