Vegetable Kuruma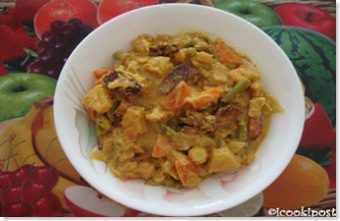 Ingredients:
Paneer (cut into cubes)- 100 gms
Green Peas (boiled) – 1/2 cup
Cauliflower – 1/2 cup
Baby corn (cut into round pieces) – 4
Pineapple (cut into round pieces) – 2 slices
Carrot (cut into round pieces) – 2
French beans ( cut into lengthwise slices) – 4
Onion(big, finely chopped) – 2
Turmeric Powder – 1/2 tsp
Garam Masala – 1/2 tsp
Curd – 1/2 cup
Cashewnuts – 2 tbsp
Grated Coconut – 1/4 cup
Dry red chilly – 2
Ginger – 1/2″ piece
Garlic – 4 flakes
Coriander seeds – 2 tsp
Green cardamom seeds – 2
Oil – 4 tbsp
Salt to taste
Preparation:
Soak cashew and coriander seeds with little water and keep aside for 15 minutes and drain.
Grind together with coconut, redchilly, ginger, garlic, cardamom to a fine paste along with curd.
Cut paneer into cubes and deep fry till golden brown in color.
Deep fry cauliflower florets also.
Heat oil in a pan. Add chopped onions and fry till it turns brown.add turmeric powder to it and stir to mix well.
Add the coconut-curd paste and cook on low flame for 5 minutes.
Add all the veggies(carrot, greenpeas, french beans, carrot) and mix well. Add 1 cup of water to get a thick gravy.
Add garam masala and salt and simmer for about 5 minutes until the veggies are well cooked.
Finally add fried paneer cubes, cauliflower and pineapple and cook for another 2 minutes.