Kerala Style Chicken Roast/Kozhi Roast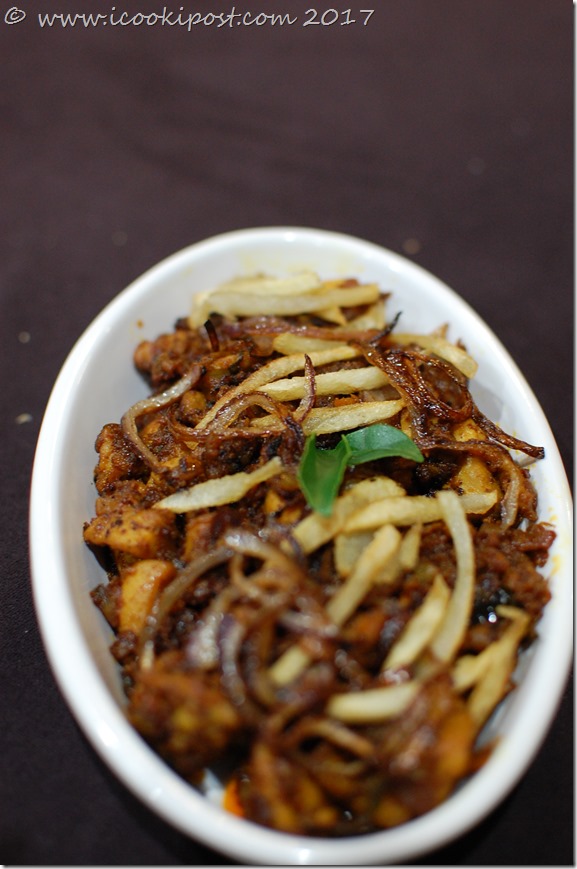 Ingredients
Chicken(cut into medium cubes) – 1/2 kg
Onion(cut lengthwise,thinly sliced,medium ) – 2
Ginger-Garlic paste – 2 tsp
Turmeric powder – 1/4 tsp
Kashmiri chilly powder – 1tbsp
Coriander powder – 1 tbsp
Jeera powder – 1/4 tsp
Pepper powder – 1/2 tsp
Fennel seeds powder – 1/4 tsp
Pudina leaves (chopped) – 1tsp
Coriander leaves (chopped) – 1 tbsp
kuskus paste –1 tsp
Lime juice – 2 tsp
Curry leaves – 1 sprig
Onion(fried) –to garnish
Potato pieces(cut lengthwise and fried) – 1, to garnish
Coconut Oil
salt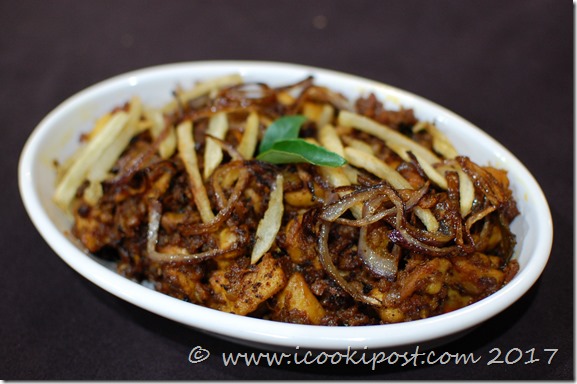 Preparation
Marinate chicken pieces with lime juice,chopped coriander leaves,,chopped pudina,turmeric pwoder,pepper powder,fennel seeds powder and salt.Keep in the fridge for 3 hours to get marinated well.
Heat coconut oil in a pan.Saute thinly sliced onions,curry leaves and once onion starts to turn light brown add red chilly powder,coriander powder,jeera powder mixed with little water  and stir well.
Once the raw smell goes,add ginger –garlic paste ,kusksu paste to it and mix well.
once oil clears add marinated chicken pieces to it and mix well.
cover and cook on low flame till done.no need to add water as chicken itself produces water while cooking.
In the mean time Heat little oil in another pan and fry potato pieces and onion  till brown and crispy.
Once chicken is cooked well and dry, remove from fire.
Garnish with fried onions and potato slices.