Nentrapazham Pulissery/Pazham Pulissery
Pulissery is a traditional dish served during sadhyas or festive occasions.It is a combo of sweet and sour taste and it is prepared using ripe banana in yogurt and coconut sauce.it goes well with Kerala Matta Rice and Pickle.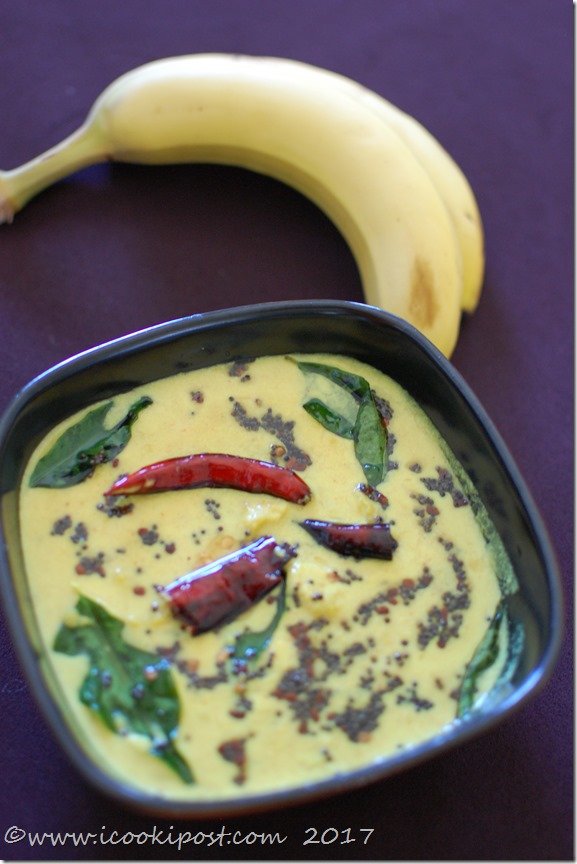 Ingredients
Banana/Nentrapazham(ripe,medium,cut into cubes) – 1
Green Chilly(slit lengthwise) – 4
Turmeric powder- 1 tsp
Red Chilly Powder- 1 tsp
Grated Coconut – 1 cup or 1/2 of coconut
Cumin seeds-1/2 tsp
Fenugreek seeds(Uluva) – 1/4 tsp
Yogurt(thick,not too sour) – 2 cups
Mustard seeds – 1 tsp
Dry Red Chilly – 2
Curry leaves
Coconut Oil
Salt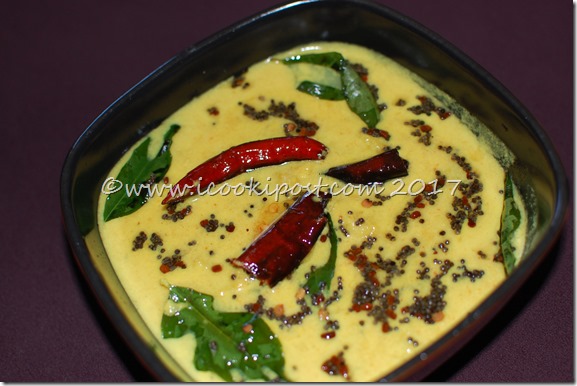 Preparation
In a Pan, Add banana pieces,green chilly,turmeric powder,red chilly powder and salt.Cover and cook till it becomes soft.
In the mean time grind coconut with cumin seeds into a fine paste.
Once banana is cooked well, open the lid and add coconut paste.Let it boil.
Once it starts to boil,add yogurt to it and mix well.don't let yogurt boil.
Remove from fire.
Heat coconut oil in a pan. Splutter mustard seeds,dry red chilly,fenugreek seeds,curry leaves and add the seasonings to the curry.
Serve with Rice.