Koon (Mushroom) Piralan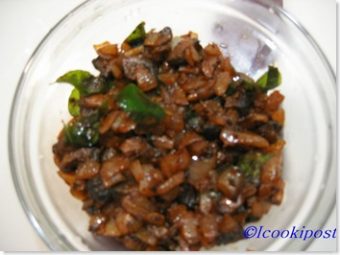 Ingredients:
Butter Mushroom – 500 gms
Red Chilly powder – 1 tsp
Ginger (chopped) 1 tbsp
Onion (medium,chopped) – 2
Coriander powder – 1 1/2 tsp
Pepper powder – 1/2 tsp
Garam Masala Powder – 1/2 tsp
Coconut milk – 1/4 cup
Mustard seeds – 1/4 tsp
Dry red chilly -2
Curry leaves – 4 sprigs
Oil
Salt
Preparation:
Clean and wash mushrooms thoroughly.
Marinate mushroom pieces with chilly powder, pepper powder, garam masala powder, salt and keep aside for half an hour.
Cook marinated mushrooms with coconut milk till dry.
Heat oil in a pan. Splutter mustard seeds, dry red chilly, curry leaves.
Add chopped ginger, chopped onions and saute well. Once onion turns brown in color, add the cooked mushrooms to it and stir well.
Serve with rice.