Aloo – Palak (Potato-Spinach Curry)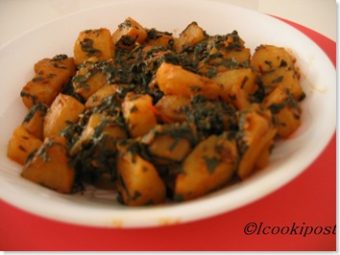 Ingredients:
Spinach – 1 bunch
Potatoes (medium) – 3
Cumin seeds(jeera) – 1 tsp
Ginger-garlic paste – 1 tsp
Red chilli powder – 1tsp
Turmeric Powder – 1/2 tsp
Coriander powder – 1 1/2 tsp
Garam masala – 1 tsp
Tomatoes 9chopped) – 2
Oil
Salt
Preparation:
Boil potatoes with little turmeric powder, salt. Drain the water and keep aside.
Heat oil in  a pan. Saute cumin seeds ginger-garlic paste, add turmeric powder, chilli powder, coriander powder, garam masala and fry for few mins.
Add chopped tomatoes, chopped spinach and stir well. Cover and cook till spinach is soft.
Add boiled potatoes to it and stir continuously until it gets dry.
Serve with roti and pickle.
Awards
Last week Divya of divyascookbook has passed me nice matters award. Thanks a lot divya.
"Nice Matters Award is for those bloggers who are nice people; good blog friends and those who inspire good feelings and inspiration also for those who are a positive influence on our blogging world."
now i would love to pass this award to
Vijaya of dailymeals
Priyanka of asankhana
Lakshmi of taste of Mysore
Asha of foodieshope
Once again i received the rocking blogger award .
Thank you so much madhavi for the award.