Mathanga Pachadi/Pumpkin Pachadi/Pumpkin in Yogurt
I have tried pachadi with bitter gourd,okra,cucumber but never tried with pumpkin.This is an easy and different style of  pachadi recipe prepared using pumpkin in coconut milk and curd.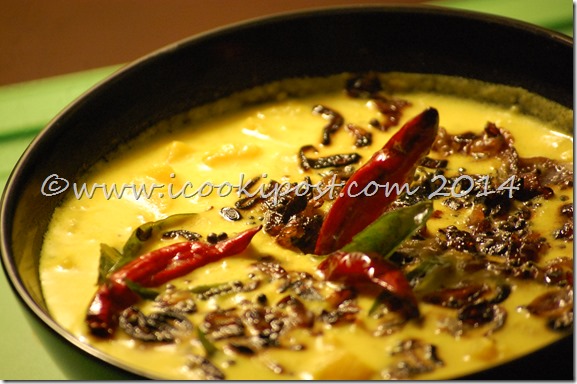 Ingredients
Pumpkin (chop into small pieces) – 1 cup

Shallots – 2 tbsp

Ginger(grated) – 1 tbsp

Green chilly(chopped) –1 tbsp

Mustard(crushed) – 1 tbsp

Thick Coconut milk – 1 cup

Curd – 1/2 cup

Mustard seeds – 1 tsp

Shallots (cut into round pieces) –1

Dry red chilly – 1

Curry leaves- 1 sprig

Oil – 3 tbsp

Salt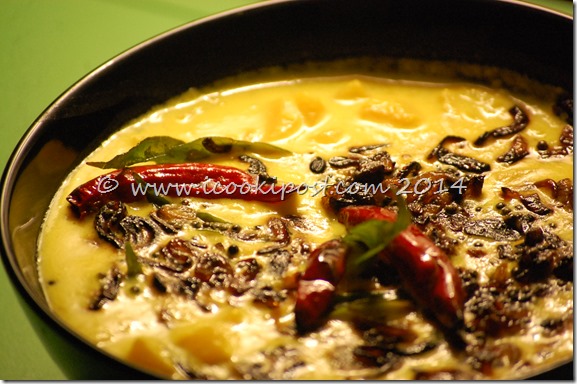 Preparation
Heat 2 tbsp oil in a  pan.Add chopped shallots,ginger,green chilly and saute well.

Add pumpkin pieces to it and mix well.

Add crushed mustard,coconut milk ,salt and let it boil.once it is cooked well,remove from fire.

Heat 1 tbsp oil in a pan.Splutter  mustard seeds.once it is done, add shallots,dry red chilly,curry leaves and add it to the pumpkin mix.

Let it cool.once it is cool, add curd to it and mix well.

Pachadi is ready to serve with rice.