Moru Kaachiyathu/Kachiya Moru/Seasoned Buttermilk Curry
Moru kaachiyathu is a popular dish of Kerala cuisine.This is easy to make and goes well with rice.During my childhood days,amma used to make this curry when I was down with fever.During sick days,this is good for digestion and helps to improve your appetite.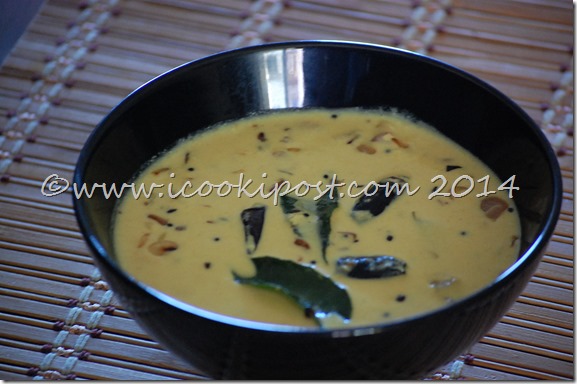 Ingredients
ButterMilk/Sour curd – 1 cup

Mustard seeds – 1/2 tsp

Fenugreek seeds(uluva) – 1/2 tsp

Shallots(chopped) – 10

Ginger(chopped)- 1 " piece

garlic (chopped) – 1/2 tsp

Cumin seeds- 1/4 tsp

Turmeric Powder – 1/2 tsp

Dry red chilly -2

curry leaves

Asafoetida powder (kaayam)– 1 pinch

Salt

Oil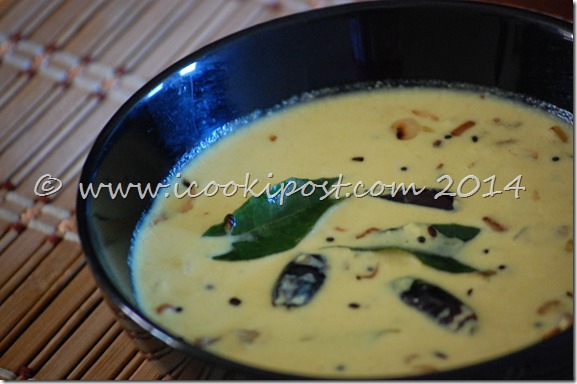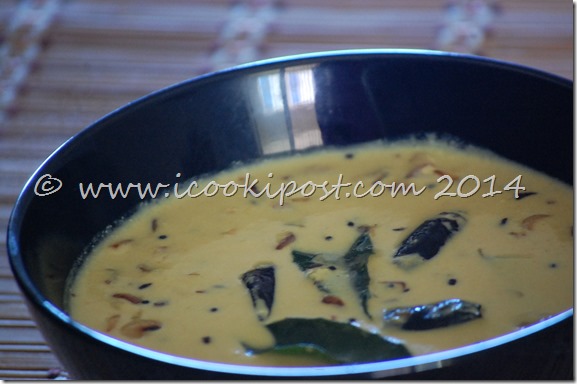 Preparation
In a bowl,Mix buttermilk with turmeric powder and salt.Heat oil in a pan.Add mustard seeds and let it splutter.

Add dry red chilly,cumin seeds,garlic,fenugreek seeds,shallots,dry red chilly,ginger,curry leaves,asafoetida powder and fry for 1-2 minutes.

Once it is done,add buttermilk to it and contionusly stir well on low flame.Once it starts to bubble,remove from fire.

Don't let it boil.otherwise buttermilk will curdle.

serve with rice.