Mixed Vegetable Korma/ Vegetable Kurma
Kurma is a popular Indian curry prepared using several vegetables in a rich and spicy  aromatic gravy.it can be served with rice,roti or Kerala Appam.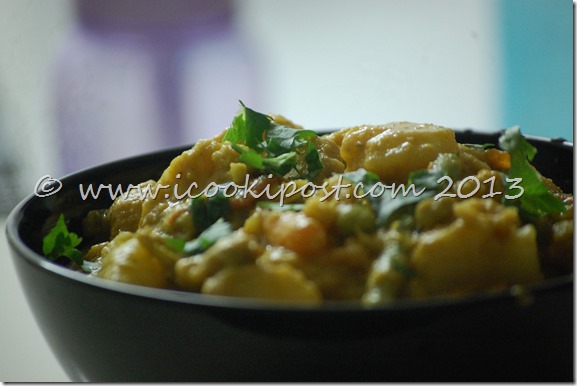 Ingredients
Potato(cut into cubes) – 1
Green Peas –1/4 cup
Cauliflower(cut into florets) – 1/2 cup
Carrot (cut into cubes) –1/2 cup
French Beans(cut into medium pieces) –1/2 cup
Onion(chopped) –1/2 cup
Ginger-Garlic paste –1 tsp
Green chilly – 2
Turmeric powder –1/2 tsp
Red Chilly Powder –1 tsp
Coriander powder –2 tsp
Garam Masala powder – 1tsp
Tomato puree – 2 tbsp
Tomato(cut into cubes) – 1
Bay leaves -2
Oil – 3tbsp
salt
Coriander leaves – to garnish
For the paste
Grated Coconut –1/4 cup
Cashew nuts – 6
Poppy seeds (kus kus) –1 tsp
Fennel seeds (perum jeerakam) – 1tsp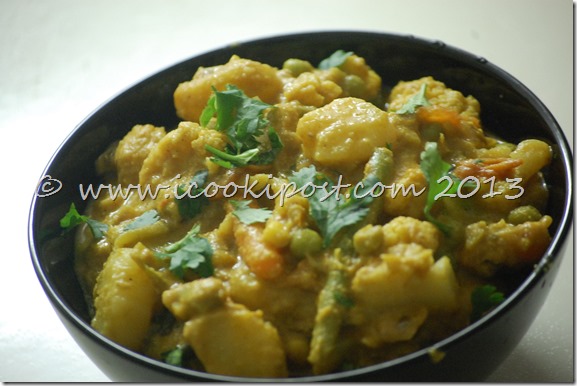 Preparation
Boil green peas and keep aside.Steam cook the remaining vegetables.
Soak cashew nuts and fennel seeds in warm water for 1 hour.wash kus kus thoroughly in cold water and drain.
Grind together coconut,cashews,fennel seeds and poppy seeds into a fine paste.
Heat oil in a pan.Add bay leaves,chopped onions ,ginger-garlic paste,chopped green chilly and saute it till onions are golden brown in color.
Mix  turmeric powder,red chilly powder,coriander powder,garam masala powder with little water(to avoid burning of spice powders) and add it to it.Fry for 1 minute.
Add tomato puree,tomato cubes and coconut paste.Cook on medium flame and stir well  till oil separates.
Add 2 cups of warm water to it and mix well.cover and cook till gravy is thick in consistency.
Finally add the steamed vegetables and boiled peas to it.Add salt to it.
Cook on low flame for 2-3 minutes to get mixed well with the thick gravy.
Garnish with coriander leaves.
Vegetable kurma is ready to serve with Appam or Roti.
Long time back, I had posted a different preparation of kurma recipe with fried cauliflower, paneer cubes and other vegetables.
Here is the link for the recipe:http://www.icookipost.com/2007/10/08/vegetable-kuruma/