Hara Chana Masala/Hara Chole Masala/Green Chick Peas Masala
This curry is prepared using chick pea and spinach in a spicy green paste..It is healthy and easy to make.This curry goes well with roti or chappathi.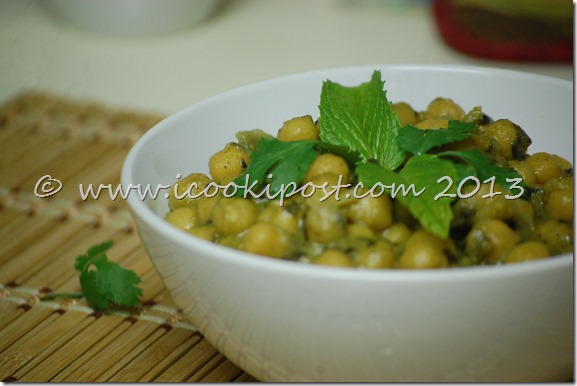 Ingredients
Kabuli chana/chick peas – 1 cup
Onion (chopped) – 1
Spinach leaves (chopped) – 1 cup
Ginger – 1" piece
Garlic – 6
Green chilly -3
Cumin seeds (jeerakam) –1/2 tsp
Peppercorns- 1/4 tsp
Curd – 1 cup
Garam Masala – 1/2 tsp
Coriander leaves(finely chopped) – 1 cup
Mint (pudina) leaves (chopped) – 1/4 cup
Ghee –1tsp
Oil –2tsp
salt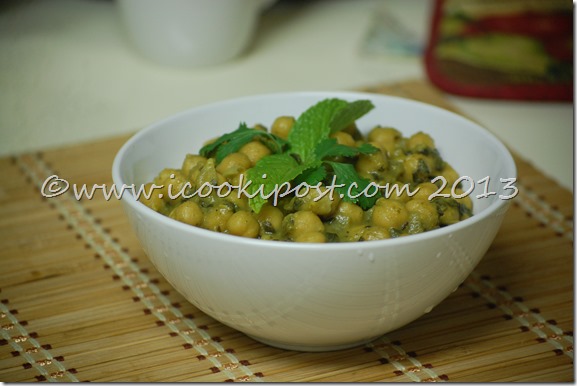 Preparation
soak chick peas in water for 5-6 hours.Pressure cook with little salt and keep aside.
For green masala,Grind together green chilly ginger,garlic,coriander leaves, mint leaves with curd.
Heat oil and ghee . Add cumin seeds, pepper corns and once it starts to splutter and nice aroma comes,add chopped onions to it and fry till onions turn golden brown in color.
Add chopped spinach to it and saute well.
Add boiled chick peas to it and stir  well for 1-2 minutes.
Add garam masala powder to it  and mix well.
Finally add the green masala paste to it.
Cover and cook on low flame for 5 minutes.
Serve with roti or chappathi.
Recipe Source:Vanitha Magazine