Paneer and Baby Corn Jalfrezi
This is prepared using paneer,capsicum and spice mix. Since it is less spicy,kids will really love it. it is a good starter with an absolutely fusion taste of Punjabi garam masala and cumin-coriander.Hope you all like this.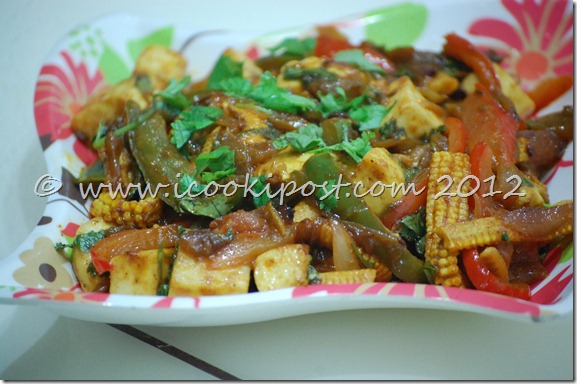 Ingredients
Paneer – 1 1/2 cups
Baby Corn (cut into lengthwise) – 1 cup
Capsicum (cut into strips,green and red color) – 3/4 cup
Onion(cut into Slices) – 1
Turmeric powder- 1/4 tsp
Chilly Powder- 1/2 tsp
Coriander-Cumin(dhania-jeera) powder – 1/2 tsp
Tomato (cut into strips) – 1/2 cup
Tomato ketch up – 2 tbsp
Tomato Puree- 2 tbsp
Vinegar – 2 tsp
Punjabi garam Masala – 1/2 tsp
Sugar – 1/4 tsp
Oil – 1 tbsp
Salt – to taste
Coriander Leaves – to garnish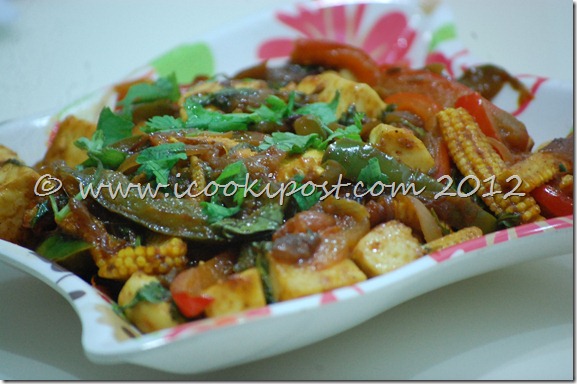 Preparation
Heat oil in a pan.Saute chopped onion and capsicum for 2 minutes.
Add baby corn,turmeric powder,chilly powder,coriander-cumin powder,tomatoes,tomato  ketch up,tomato puree and salt and saute on a low flame for about 5 minutes till the baby corn is cooked.
Add paneer,vinegar,Punjabi garam masala,sugar and toss lightly.
Garnish with coriander leaves.
Serve hot.
Recipe Source: Punjabi subzis by Tarla Dalal.