Cabbage-Unakka Chemmeen Thoran (Cabbage-Dried Prawns Stir Fry)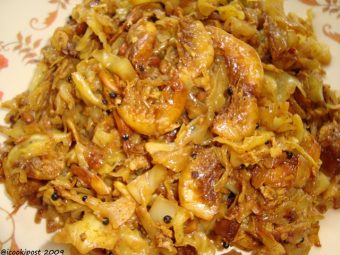 Ingredients:
Cabbage – 1
Dried Prawn – 250gms
Grated coconut – 1/4 cup
Chopped onion -1
Ginger-Garlic paste – 1 tbsp
Turmeric powder – 1/2 tsp
Red chilly powder – 1/2 tsp
Coriander powder – 1/4 tsp
Pepper powder – 1/4 tsp
Garam Masala powder – 1/4 tsp
mustard seeds -1/4 tsp
Urad dal – 1 pinch
Curry leaves
Salt
Oil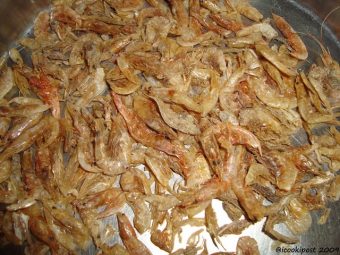 Preparation:
Wash the dried prawns a couple of times without removing the shell.
Heat oil in a pan. Add mustard seeds and allow it to splutter.
Add urad dal, ginger-garlic paste, curry leaves and saute.
Add chopped onions and fry. Add all masala powders and once the raw smell goes, add shredded cabbage, dried prawns , salt and mix well.cover and cook .
Once it is cooked well, add grated coconut and pepper powder to it and stir for 2 mins. Remove from fire.
Serve with rice.