Mutter-Phool Makhana (Green Peas and Puffed Lotus Seeds) Curry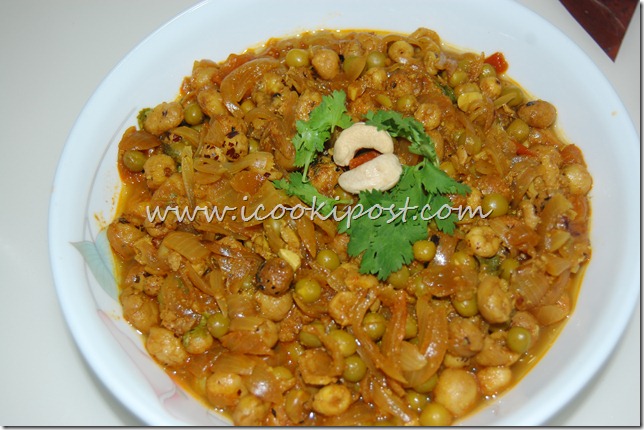 I wish you all a happy and prosperous new year ahead.
This is  my first post of 2009 after Vacation break.
Phool makhana is puffed lotus seeds and looks like pop corn with a different taste.
Here is the simple and easy recipe.
Ingredients:
Green peas – 1 cup
Phool Makhana(puffed lotus seeds) – 100 gms
Onion -2
Ginger-Garlic paste – 2 tsp
Tomatoes(medium,chopped)- 2
Turmeric powder – 1 tsp
Red chilly powder – 1/2 tsp
Garam Masala – 1tsp
Cashewnut paste – 1 tbsp
Coriander leaves
Butter –  2 tbsp
Salt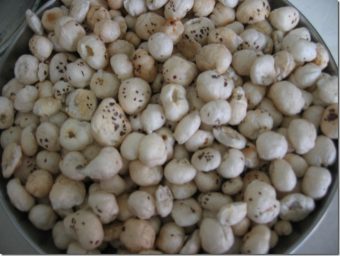 Preparation:
Boil green peas and keep aside.
Heat butter in a pan. Add lotus seeds to it and fry until light brown.Once it is fried, soak in cold water.
In the remaining butter, fry onion till golden brown.
Add ginger-garlic paste,chopped tomatoes, turmeric powder,chilly powder,gram masala powder, cashew nut paste and saute well.
Add fried  makhana , boiled green peas ,salt and stir well..cover and cook till done.
Sprinkle butter on top.
Garnish with coriander leaves and Cashews.
Serve with roti.