Penne Napolitana
Penne Napolitana is from Naples and Napolitana sauce  was the staple of the poor of Napoli. It is is made with fresh plum tomatoes and it is delicious in its simplicity of ingredients. It is the perfect basic sauce not only for penne but for pizza and lasagna as well. Those who do not know what Penne means, click here.
I got this recipe from one of my close friend . She is an excellent cook and a good photographer. She doesn't like to write, but I'm trying to make her write and hope to share her recipes here someday :-), so, watch out the space. After so many requests, she uploaded some of her culinary pics in her orkut album which tempted me to try out this. My cooking instincts provoked me to try this out a little differently by converting it into pure veggie, and I should say that it came out very well and my hubby and kids loved it.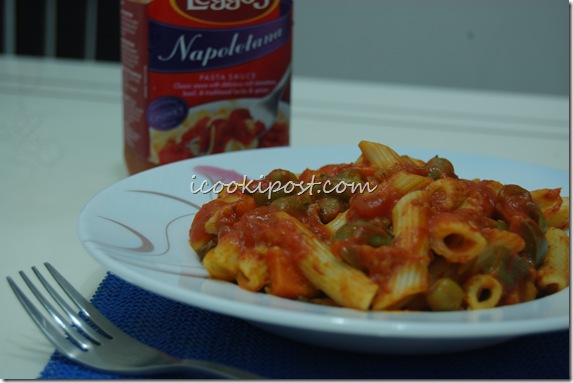 Ingredients
Penne – 1 1/2 cup
Olive Oil – 4 tbsp
Chopped Garlic – 2 tbsp.
Pepper Powder – 1/2 tsp
Chopped Vegetables(Capsicum,Green peas,Beans,Carrot) – 1 cup
Napolitana Sauce – 2 cups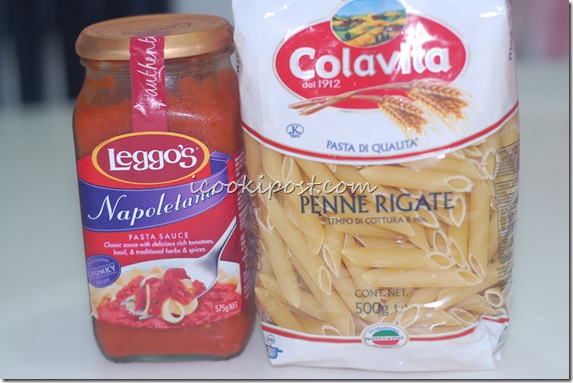 Preparation
Boil  penne with little salt for 10 minutes. Drain and toss with 1 tbsp olive oil in the pan and keep warm.
Heat 3 tbsp olive oil in another pan. Saute garlic, pepper powder, chopped vegetables and stir well. You can add chopped chicken pieces instead of veggies.
Once it is done, add napolitana sauce and simmer.
Finally pour over the cooked pasta.
Serve warm.
This Goes to Presto Pasta Nights No.201  hosted by Pia.