Nei Payasam
Nei means "ghee" and this is prepared using rice,jaggery and ghee..This is traditionally served as prasadam to the devotees in bhagavthy(Devi) temples of Kerala.This is also called sharkkara payasam,ambhala payasam or neivedya payasam.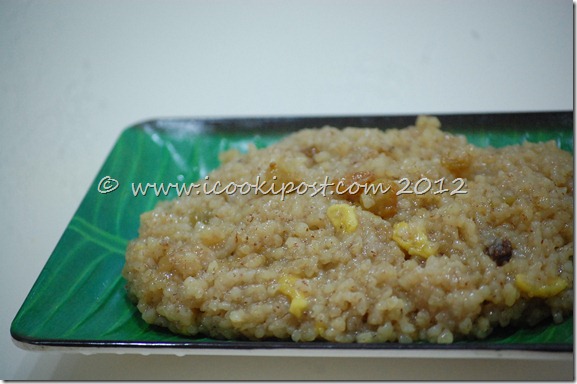 Ingredients
Unakkalari\Payasam Rice – 1/2 cup
Jaggery(grated) – 1/2 cup
Water –2 1/2 cups
Ghee – 1/2 cup
Grated Coconut – 1 cup
Rock sugar cubes – 1 tbsp
Cashews – 10
Raisins – 10
Cardamom Powder(optional) –1/2 tsp
Banana(small,Chopped)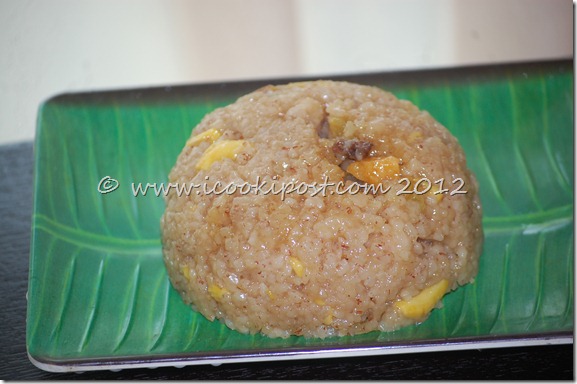 Preparation
Boil water in a pressure cooker and once it starts boiling, add rice to it and cover and cook for 2 whistles.
Heat a heavy bottomed pan or Uruli and transfer the cooked rice to it. Add grated jaggery(or you can melt jaggery with water till it gets thick.strain to remove impurities) and ghee.
Stir well on low flame for 10 minutes to get the jaggery melted and mixed well with ghee and rice.Once it is thick,add grated coconut,raisins,rock sugar,cardamom powder and cashews.Cashews and raisins to be fried in ghee before adding to the payasam.
Add chopped banana pieces to it and mix.Serve warm.