Vaazhakoombu Thoran/Plantain Flower Stir fry/Banana Flower Stir Fry
Banana flower is rich in fiber and it is highly nutritious and tastes good.you can prepare different types of dishes using various parts of plantain .This can be served as a side dish with Kerala  rice and curry.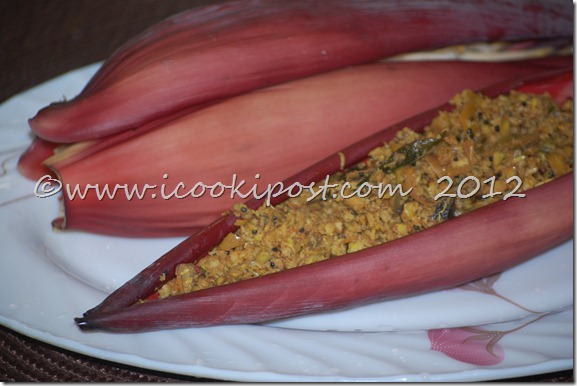 Ingredients:
Vazhakoombhu/Plantain Flower(finely chopped) – 1 cup
Turmeric powder –1/2 tsp
Red chilly powder –1/2 tsp
Grated Coconut – 1/2 cup
Garlic –2
Mustard seeds – 1/2 tsp
Dry red Chilly- 2
urad daal (uzhunnu parippu)– 1 tsp
oil – 1tbsp
salt
Curry leaves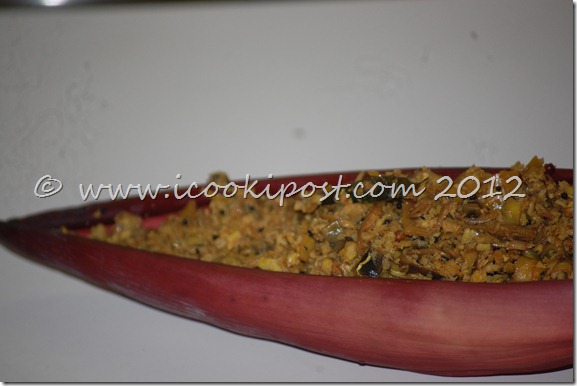 Preparation:
Remove the outer layers(4-5 layers) of plantain flower till you see soft and white layer petal(see below pic).
Finely chop the flower into small pieces .put the chopped flower in water with little turmeric powder and salt for 10 minutes.squeeze out the extra water and drain.
Boil plantain flower with turmeric powder,red chilly powder and salt.
Grind coconut and garlic into a coarse paste.
Heat oil in a pan. Splutter mustard seeds, dry red chilly,curry leaves and urad daal.once daal turns light brown,add coconut paste to it and mix well.
Finally add boiled plantain flower and stir fry to get mixed well for 2 minutes.Turn off the heat.
Transfer into a serving bowl and serve with rice as side dish.