Neychoru,Chicken Dofiyas and Semiya Payasam
Its been more than an year since I started blogging. I couldn't believe that this is my 100th post and on this special occasion I'm going to give you all a special sweet n spicy virtual treat with ghee rice, chicken curry, raita and vermicelli payasam. I started this just for time pass and now I got to know more about cooking. So, I just want to thank all my fellow blogger friends for the support and valuable comments.
Neychoru (Ghee Rice)
Ney choru is a traditional malabar Muslim dish and it tastes good with any non veg. curry, papadam, pickle and raita.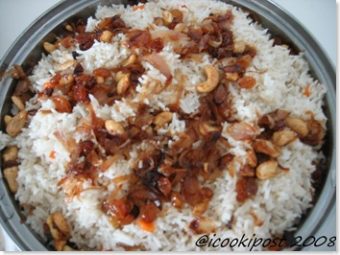 Ingredients:
Basmati Rice – 2 cups
Onion(Big,chopped) – 2
Cashewnuts – 1 cup
Raisins – 1/2 cup
Ginger-garlic paste – 2 tbsp
Cinnamon – 1
Cloves -4
Bayleaves – 2
Pepper corns – 4
cardamom – 2
Coriander leaves
Water – 4 cups
Carrot (chopped) – 1/4 cup
Salt
Ghee – 5 tbsp
Preparation:
Soak rice in water for half an hour.
Heat ghee in a pan and fry half of the chopped onions till golden brown and keep aside.
In the remaining ghee saute cinnamon,cloves,cardamom,peppercorns and bay leaves,ginger-garlic paste,coriander leaves,chopped carrots and remaining chopped onions.
Add rice to it and fry for 3-4 mins till it becomes crispy.
Now add 4 cups of boiled water to rice mix and cover and cook until all the water is absorbed.
Garnish with fried cashews,raisins and onions.
Serve hot with raita, chicken curry .
Chicken Dofiyas
This recipe is adapted from a cookery show.  It tastes great with ghee rice…Enjoy!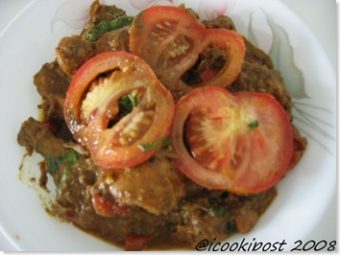 Ingredients:
Chicken – 1kg
Onion(medium, chopped) – 3
Tomato(medium, cut into round pieces) – 1
Ginger – 1″ piece
Dry red chilly – 2
Garlic pods – 6
Green chilly – 2
Capsicum -1
Kasoori methi powder – 1/2 tsp
Turmeric powder – 1 1/2 tbsp
Kashmiri chilly powder – 1 tbsp
Garam Masala powder – 1 tsp
Pepper powder – 1 tsp
Coriander powder – 1 tsp
Milk – 1/4 cup
Cashewnut paste -1 tbsp
Vegetable oil or Dalda
Salt
Ghee- 1 tsp
Coriander leaves
Preparation:
Marinate chicken with turmeric powder and salt.
Heat Dalda in a pan.Saute chopped ginger,garlic and once it is done add green chilly,kasoori methi powder,dry red chilly,chopped onions,chopped capsicum and fry well.
Add garam masala powder,pepper powder,coriander powder,turmeric powder,chilly powder and mix well.once raw smell goes add chicken pieces and mix well.
Add milk and Cashewnut paste to it .cover and cook till chicken is well cooked.Add ghee to it and mix well.
Garnish with tomato pieces and coriander leaves.
Raita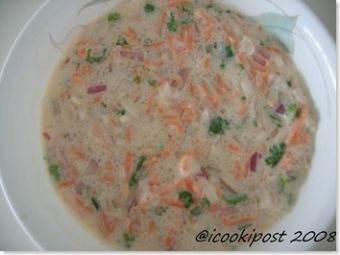 Ingredients:
Onions – 2
Carrot -2
Coriander leaves
Yogurt – 1 cup
Salt
Preparation:
Mix well chopped onions, grated carrots, coriander leaves, salt and yogurt.
Semiya payasam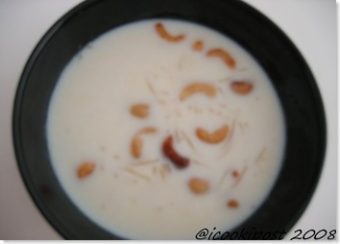 Ingredients:
Vermicelli(Semiya) – 1 cup
Cashew nuts – 10-12
Raisins – 10
Water
Sugar – 1 cup
Milk – 4 cups
Ghee
Cardamom powder – a pinch
Preparation:
Heat ghee in a pan and fry cashewnuts and raisins and keep aside.
In the same ghee, fry the vermicelli till light brown
Boil milk with water and stir continuously. once it starts boiling , Add vermicelli to it and mix well.
Once it becomes soft , add sugar to it and stir till it becomes thick.
Garnish with fried cashew nuts, raisins and cardamom powder.
Serve hot or cold.