Nool Chiratt Puttu
I wish all my readers a wonderful and prosperous new year 2014.Hope all your dreams and resolutions comes true.This is my first post of 2014 and I am going to start with a healthy Kerala breakfast recipe.Nool puttu and puttu are the popular breakfast dishes of Kerala, But this is a combo of nool puttu and chiratta puttu. For making this you need a chiratta puttu maker,idiyappam Presser and pressure cooker to steam the puttu(Idiyappam,string hoppers).Hope everybody likes it and this goes well with kerala stew,green peas curry or kadala curry.I got this recipe from the "Double Horse-  50 breakfast ideas" cookbook.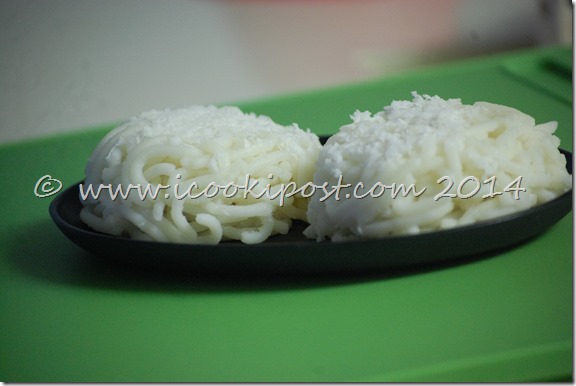 Ingredients
Rice flour(idiyappam flour available in Indian stores) – 2 cups

Grated Coconut – 2 cups

Water- to make dough

Oil – 1 tsp

Salt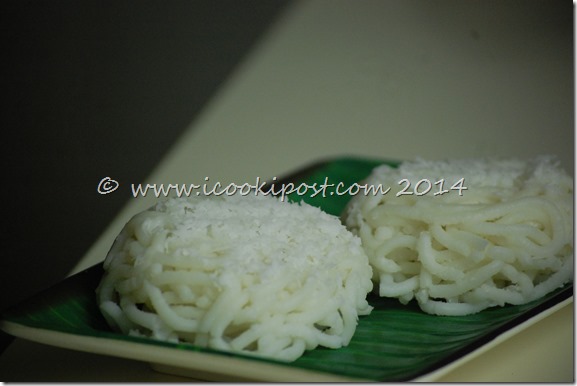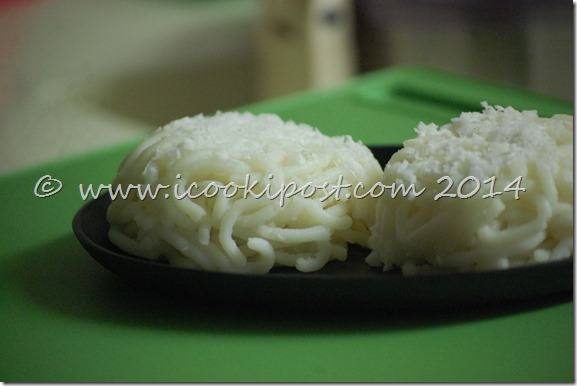 Preparation
Boil water and add salt and oil to it.In a bowl, add rice flour and add the boiled water to it and mix well using spatula.Knead into a soft dough when still hot.

Apply little oil on your palms and make medium sized balls out of it.

Insert in idiyappam presser mould with large sieve holes and squeeze into a plate with a fine layer of rice flour spread on it.

sprinkle rice flour intermittently on the rice threads(nool) to prevent threads from sticking together.

When Nool is squeezed out fully,slightly shake off the excess rice flour using a netted sieve.

Sprinkle coconut scrapings on top of the nool and steam cook in a chiratta puttu maker(or a cup shaped coconut shell with a hole in the center) for 2-3 minutes.

Serve with Kerala stew,kadala curry,green peas curry or any non veg curry of your choice.