Palak(Spinach) Roti/Chapathi
Spinach (Palak) is very nutritious and good for health. It is a very good source of iron. My daughter likes this green chappathi  and you can have this with any type of vegetable curry. We had this with bhindi masala and it tastes great. If you are one of those amateur cooks who do not even know how to make normal chappathis, then watch this video first 🙂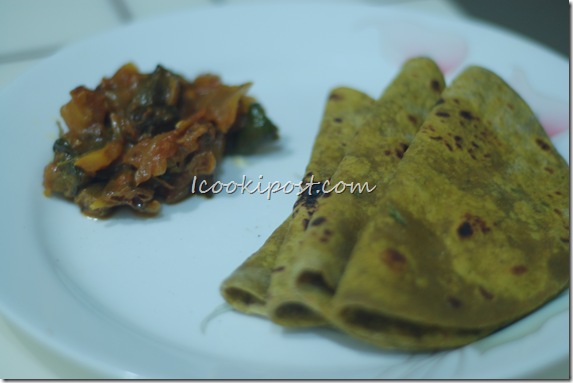 Ingredients
Palak (spinach) – 1 bunch
Wheat Flour – 1 cup
Turmeric powder – 1 tsp
Red chilly powder – 1 tsp
Asafoetida – 1pinch
Curd – 2tbsp
Oil– 2tsp
Salt
Oil – for frying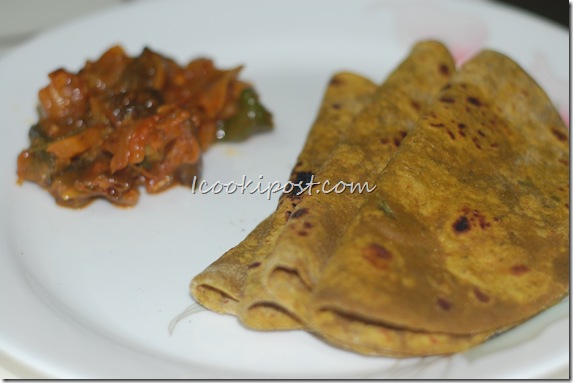 Preparation
Remove stalks of spinach and wash thoroughly. Blanch spinach till it wilts(shrinks and turns darker green). Drain and let it cool and then grind it into a fine paste.
Add Turmeric powder, red chilly powder, asafoetida,curd and salt to the flour and mix gently using hand.
Finally add spinach paste to it. Knead well into a smooth and soft dough.
Keep covered with a damp cloth for 30 minutes.
Divide dough into equal sized balls.On a floured board roll a ball of dough into a flat round circle.
Heat a griddle and fry till both sides are medium brown.
Serve with curry and use pickle to make it more yummy.