Kadai Paneer (Cottage Cheese with Capsicum)
Today when I opened my refrigerator, all I could find was some capsicum and realized that it's time again to refill it with fresh vegetables. Since I had to prepare something for the dinner and it was too late to go to market, I started thinking what I could make just using capsicum. Suddenly, I realized that I had bought some ready made paneer cubes couple of weeks ago which could be an excellent add-on to make a rich kadai paneer. Kadai Paneer is a typical Punjabi dish and it is normally prepared in a kadai. Adding capsicum and kasoori methi powder gives it a rich aroma and serves as a great combo with any type of Indian breads.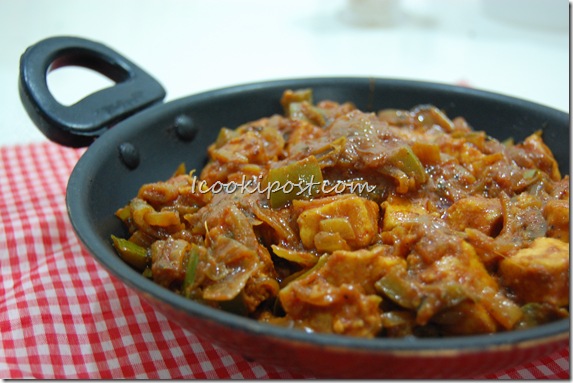 Ingredients:
Paneer (cut into cubes) – 250gms
Onion(chopped) –2
Tomato (chopped) – 2
Ginger-garlic Paste – 2 tsp
Cumin seeds – 1/4 tsp
Capsicum(bell Pepper) – 2
Kashmiri Red chilly powder – 1 tsp
Turmeric powder – 1/4 tsp
Coriander Powder – 1 tsp
Garam Masala Powder – 1 tsp
Kasoori methi powder – 1tbsp
Salt to taste
Oil
Coriander leaves – to garnish
Preparation:
Heat oil in a kadai. Add cumin and once it starts spluttering add ginger garlic paste and saute.
Then add chopped onions and fry till light brown.Add turmeric powder,red chilly powder,coriander powder and saute well.
Add chopped tomato and chopped capsicum and cover and cook for 2 minutes.once it start to separate from oil add paneer cubes, kasoori methi powder,garam masala powder,salt to it and mix.
Add 1/4 cup of  water to it and cook till gravy is thick.
Garnish with coriander leaves.
serve with roti or Naan.
This  entry goes to JFI-Paneer.