Vegetable Noodles
Noodles are all time favorite of kids. For this reason, you don't have to tell them about its nutritional facts. As  noodles contain lot of carbohydrates, it is good for kids to have it in their lunch box. Usually noodle packets have taste maker inside which contains ajinomotto and other artificial flavors which are usually considered unhealthy to consume. So as an alternative, you can create your own instant maker by using mixed vegetables or scrambled egg.  It tastes so good that even fuzzy eaters won't even notice that they are consuming an healthy diet comprising of enough carbohydrates and proteins.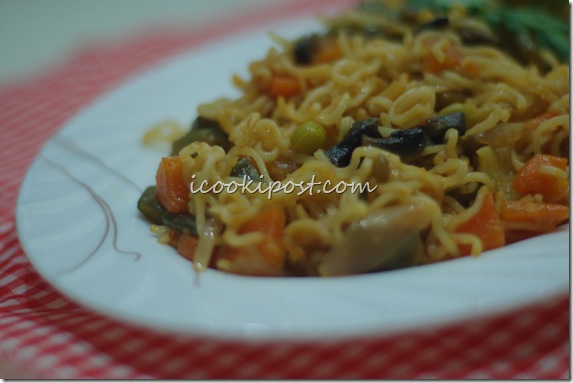 Ingredients
Noodles – 1 cup
Onion(chopped) – 1/2 cup
Mushroom – 1/2 cup
Cabbage(chopped)  – 1/2 cup
Carrot(chopped) –1/4 cup
French Beans(chopped) – 1/2 cup
Green peas (boiled)– 1/4 cup
Capsicum (chopped) 1/2 cup
Chilly Sauce – 2 tsp
Tomato Sauce – 1 tbsp
Soy sauce – 2 tsp
Vegetable Stock – 1/2 cup
Coriander leaves
Salt
Oil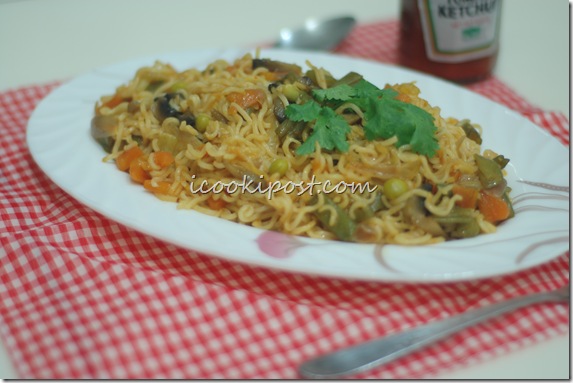 Preparation
Boil water with salt and once it starts boiling add noodles to it.
Once noodles become (usually it  takes 1-2 minutes) soft,drain and rinse with cold water. Toss with 1 tbsp of oil to prevent stickiness.
Heat oil in a frying pan (Wok).Add chopped onions to it and saute till light brown.
Add chopped vegetables and vegetable stock to it.cover and cook till veggies are done.
Toss Noodles once again and add it to the pan.
Finally add chilly sauce,soy sauce, tomato sauce and mix well with noodles.
Garnish with coriander leaves.
Serve hot with Ketch up.