Prawn Dum Dum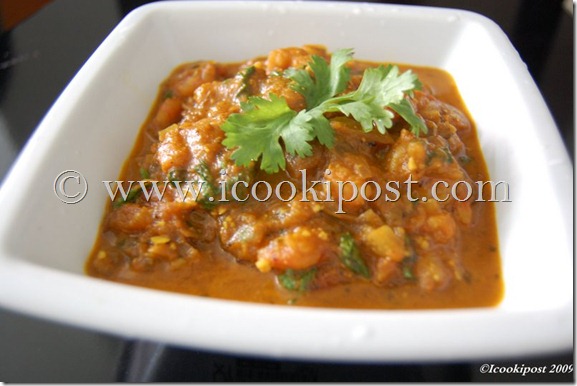 Ingredients:
 Prawn -1/2 kg
Onion(chopped) -4
Tomato paste -1/2 cup
Ginger – garlic paste -1 1/2 tbsp
Garam Masala -1 tsp
kasoori methi powder-1/2 tsp
Turmeric powder – 1tsp
Kashmiri chilly Powder-1 tbsp
Coriander powder ? 1/2 tsp
Cashewnut or Almond paste – 2 tbsp
Salt
Coriander Leaves
Preparation:
Wash and devein prawns.
Heat oil in a kadai and fry chopped onions till brown in color.
Add ginger-garlic paste and fry till the raw smell goes.
Add turmeric powder, chilly powder, coriander powder and tomato paste and saute well.
Add prawns with little quantity of water and boil for 6 mins (don't overcook prawns as they tend to become tough on overcooking)
Add salt and kasoori methi powder.
Add cashewnut or almond paste dissolved in 1 cup of water to get a thick gravy and add it to the curry and cook for 2-3 mins.
Garnish with Coriander Leaves.