Mathan Erissery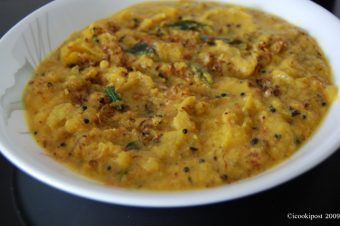 Ingredients:
Pumpkin – 250 gms
Grated Coconut – 3/4 th of a coconut
Turmeric powder – 1/2 tsp
Cumin seeds(jeerakam) – 1/4 tsp
Dry red chilly – 3
Mustard seeds – 1/2 tsp
urad dal(uzhunnu parippu) – 1 tsp
Coconut oil
Curry leaves
Preparation:
Cut pumpkin(use golden yellow colored pumpkin) into medium cube pieces and boil with turmeric powder and salt.
Grate 1/2 of a coconut and grind with cumin seeds into a fine paste.
Add the coconut paste to previously cooked pumpkin and boil until it reaches thick in consistency.Turn off the heat.
Heat coconut oil in a pan. splutter mustard seeds. Add curry leaves, cumin seeds,dry red chilly and urad dal and once it is done add the seasoning to it.
In another pan, heat oil and add the remaining grated coconut and saute till golden brown in color. Add this to erisseri and mix well.
Serve with rice.