Spinach Stems Curry(ചീരത്തണ്ടു കറി)
This is a simple and delicious curry prepared using spinach stems.Green leafy vegetables like spinach,drumstick leaves contains lot of calcium,fibre,vitamin and iron.so it is healthy to have atleast one leafy vegetable in your daily diet.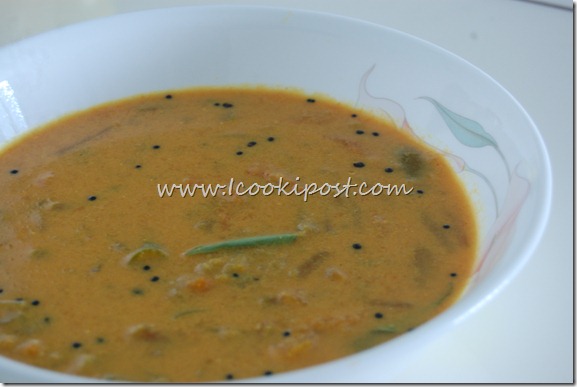 Ingredients:
Spinach stems(cheerathandu) – 1 cup
Tomato – 2
Green Chilly(slit lengthwise) – 4
Turmeric powder –1 tsp
Shallots – 4
Grated coconut –1 cup
Red chilly powder – 1tsp
Cumin seeds(jeerakam) –1 tsp
Yogurt(curd)  – 1tbsp
Mustard seeds – 1tsp
salt
oil
Preparation:
Make a fine paste of grated coconut,shallots,red chilly powder,cumin seeds and yogurt.
In a pressure cooker, add chopped tomatoes,chopped spinach stems,green chilly and turmeric powder.cook with little water for one whistle.once it is cool, open the lid and mash it.
Add the coconut paste to it and mix well.let it boil.
Once it starts boiling,remove from fire.
Heat oil in a pan. splutter mustard seeds.once it is done add it to the gravy.
Garnish with Curry leaves.
Serve with rice.