Stir Fried Chick Pea(വെള്ളക്കടല വഴറ്റിയത്)
Chickpea (chana or chole) masala is a common dish of North India.So far i have tried only chole masala and chana chat with chick peas.This stir fried chick pea is yummy and spicy to have with rice.Hope you all will enjoy this new recipe.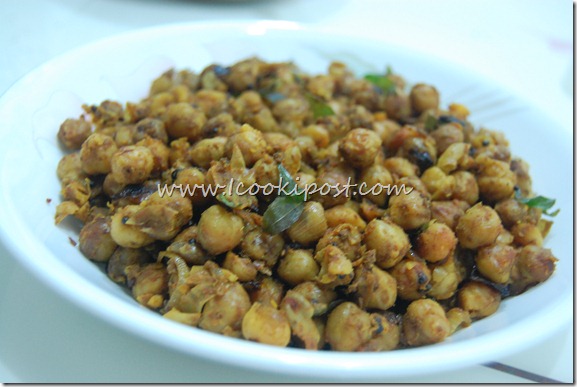 Ingredients:
Chick peas (Garbanzo beans) – 1 cup
Onion(chopped) – 1
Shallots – 8
Garlic (chopped) –3
Turmeric powder – 1tsp
Kashmiri red chilly powder – 1 tbsp
Coriander powder – 2 tsp
Fennel seeds(perumjeerakam) – 1/4 tsp
Cinnamon stick – 1
Cloves –2
Cardamom – 1
Mustard seeds – 1/2 tsp
Curry leaves – 2 sprigs
Salt
oil
Preparation:
Make a fine paste of turmeric powder,red chilly powder, coriander powder,fennel seeds,cinnamon,cloves and cardamom.Mix chick peas with the paste.
Boil marinated chick peas with chopped shallots,chopped garlic and required amount of water.cook till dry so that no water should remain.
Heat oil in a pan. Splutter mustard seeds,once it is done add chopped onions and fry till light brown.Finally add boiled chick peas,curry leaves and mix well.
Serve with rice as side dish.