Surprise Inside Heart Cupcakes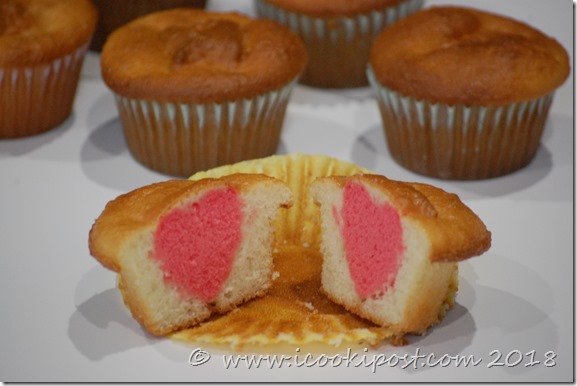 Ingredients:
Vanilla Cake Mix – 1
Red Gel Coloring
Heart Cutter(small)
Cupcake Liners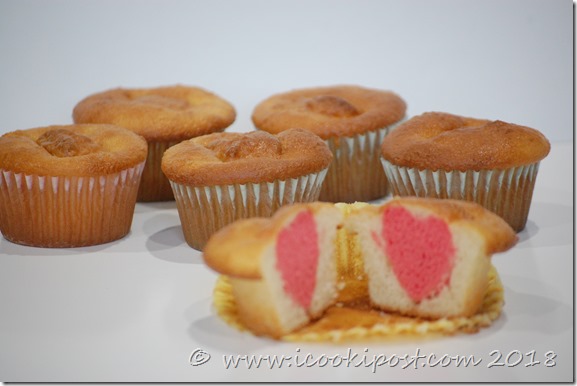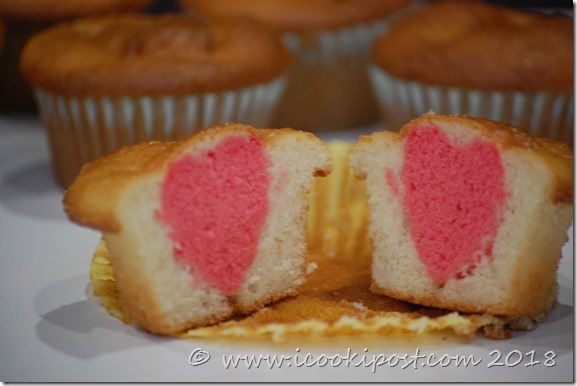 Preparation:
Preheat Oven to 350 degree Fahrenheit.
In a bowl, add cake mix and add ingredients as instructed on back of the cakemix box.
Separate 2 cups of white cake mix into another bowl. Add red gel coloring drop by drop till u get a nice red color.
Grease a small square(8 inch) cake pan with oil and all purpose flour.
Transfer the red cake batter into the pan and tap gently to get rid of air pockets.
Once preheating is done, bake for 20 minutes or insert a toothpick and if it comes out clean then it is done.
Once it is cool, use a heart shaped cutter to cut around 8 hearts from the baked cake and keep aside.
Line a cupcake pan with cupcake liners. Pour in 1 tbsp. of white cake batter into it and place the heart shaped cake into the center, facing flat to the front.
Add two more tbsp. of white batter on top of the heart slowly. Make sure your batter is over the heart or else the heart cake will pop-up once it is baked.
Bake at 350 degree Fahrenheit for about 15 minutes.
Let it cool. If you like you can do butter cream icing too on top.
Once you cut the cupcake in half you'll be surprised with a red little heart.
Recipe credits:Cupcake Jemma YouTube channel