Urulakizhangu Thoran (Potato Stir fry with Coconut)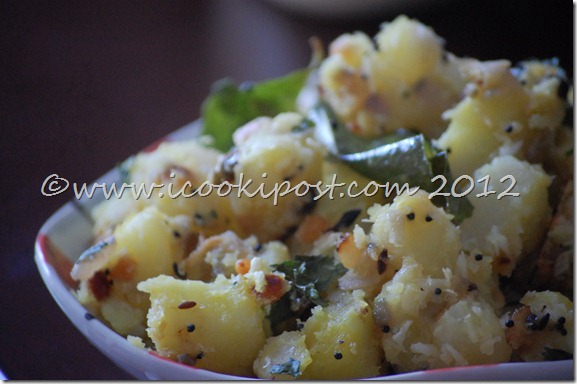 Ingredients
Potato(boiled and cut into cubes) – 1 cup
Onion(chopped,medium) –1
Ginger (chopped) – 2tsp
Garlic (chopped) – 1 tsp
Green Chilly(chopped) –2
Grated Coocnut – 1/4 cup
Turmeric powder –1/4 tsp
Mustard seeds – tsp
Cumin seeds – 1tsp
Urad daal –1/4 tsp
Chana daal (kadala parippu) – 1tsp
asafoetida powder –1/4 tsp
Dry red Chilly –2
Curry leaves
Salt
Coconut oil
Coriander leaves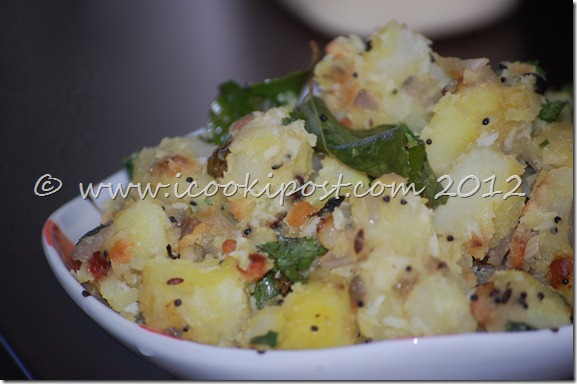 Preparation
Heat oil in a  pan.Add mustard seeds and let it splutter.Add urad daal,cumin seeds,chana dal,dry red chilly curry leaves and once the nice aroma of roasted daal comes ,add chopped ginger,garlic and green chilly.Let it saute for sometime on medium flame.
Add chopped onions and once it turns brown,add turmeric powder,asafoetida powder and mix well.
Finally add potato cubes and salt  to it and stir well.
Add grated coconut and chopped coriander leaves to it and mix well.let it cook for 1 minute and remove from fire.
serve with rice.