Vellappam and Green Peas Curry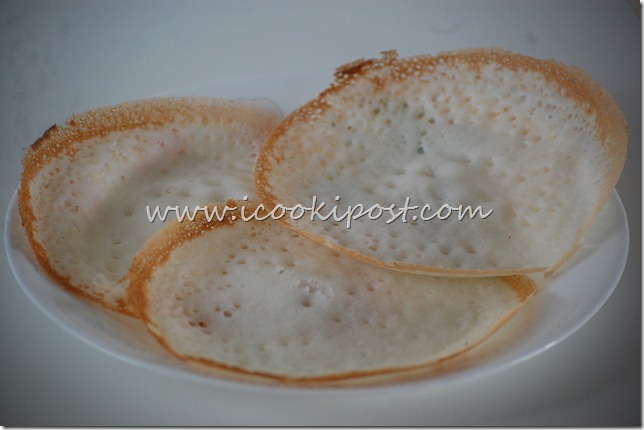 Ingredients:
Raw Rice – 3 cups
Cooked rice – 1/2 cups
Grated Coconut – 1 cup
Yeast – 1 tsp
Baking Powder – 1 tsp
Rava(semolina) – 2 tsp
Sugar – 1 tbsp
Salt
Preparation:
Soak the rice for 6-8 hrs and drain it.
Grind the soaked rice,cooked rice with grated coconut adding enough water in a mixer to a smooth batter.
In a pan, heat 1/2 cup of rava with 1 1/2 cup of water on medium flame and keep stirring till rava becomes thick.Allow the gruel(kurukku) to cool down.
Dissolve 1 tsp sugar and yeast in 1/4 cup of luke warm water and keep aside for 20 minutes to let it rise.(Do not add hot water as it will not rise)
Add the yeast mix, gruel to the grinded rice and allow it to ferment for 8 hrs.
Next day Add sugar,baking powder and salt according to your taste.
Heat a non-stick pan or vellappachatti.Smear the appachatti lightly with oil. Pour a ladleful of batter into it.
Take the appam chatti into both your hands and rotate in one direction to spread the batter all around the vessel with more batter in the middle.
Cover it with a lid and let it cook for 2-3 mins until the edges of the appam turn slightly brown in color.once it is done,Slowly take out the appam with a spatula.
Serve hot with peas curry ,egg roast or vegetable stew.
Green Peas Curry
Ingredients:
Green peas – 1 cups
shallot – 4
Grated coconut – 1/2 cup
Tomato -1
Ginger – 1″ piece
Garlic flakes- 5
Cinnamon
Cloves – 3
fennel seeds- 1/4 tsp
Turmeric powder – 1/2 tsp
Red chilly powder – 1/2 tsp
Coriander seeds – 1/4 tsp
Coconut oil
Salt
Mustard seeds -1/4 tsp
Dry red chilly -2
Curry leaves
Preparation:
Soak green peas in water for 3-4 hrs and pressure cook with little turmeric and salt.
Heat oil in a pan . Fry shallot, grated coconut, ginger, garlic, cinnamon, cloves, fennel seeds and coriander seeds till light brown.Once it is cool,Grind it to a fine paste.
Add chopped tomato pieces ,chilly powder to cooked green peas and boil for 3 mins.
Add the coconut paste and boil for 3-4 minutes.
Heat oil in a pan and splutter mustard seeds, dry red chilly and add this to the curry.
Garnish with curry leaves.