Coconut Burfi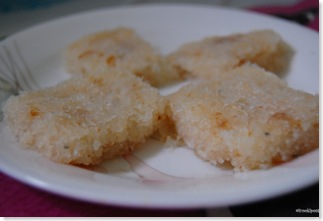 I have never made coconut burfi before and this is my first attempt at making burfis.This recipe is adapted from a cook book and hope you all will enjoy it.This is my entry to RCI Tamil Festival Event – Diwali
Ingredients:
Grated coconut – 1 cup
Sugar – 2 cups
Milk – 1/2 cup
Butter – 1/4 tsp
cardamom powder – 1/4 tsp
Preparation:
In a pan,Add coconut ,milk and cook till bubbles appear.
Continue cooking, stirring continuously, for 10-12 minutes.
Simultaneously, boil sugar in 1 cup water to make the syrup.
Pour the sugar syrup into coconut mix, stirring gently and continuously.
Add butter, and continue stirring, till soft lump forms.
Add cardamom powder.
Transfer the mixture into a ghee smeared plate and spread evenly with a spoon.
Cool and cut into square or diamond shapes using a knife.
Store in an air tight container.