Banana Samosa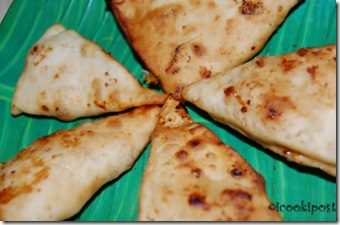 Ingredients:
All purpose flour(Maida) – 200 gms
Butter – 2 tbsp
Salt
Water
Oil
Ripe banana – 2
Crushed jaggery (sharkara or Gur) – 1/4 cup
Grated coconut – 1/2 cup
Preparation:
Cut bananas into 2-3 pieces and steam cook. Peel off the skin, cut it through the center and remove those soft black seeds inside it.
Mash well using a spoon or something similar and mix it with coconut and jaggery – this mixture will be used as a filler for the samosas later.
Add maida, butter, salt (to taste) and add water little by little to prepare a smooth dough.
Make small round balls out of the dough. Roll out the balls and cut into semi circles and give it a cone shape – your imagination plays a role here 🙂
Now, fill the cone appropriately using the mixture we prepared earlier in step 2
Heat oil in a pan (kadai) and deep fry until it becomes brown in color. Serve hot.
Iam sending this to Banana Recipes hosted by Dr.Sameena