BeetRoot Pickle (Beetroot Achar)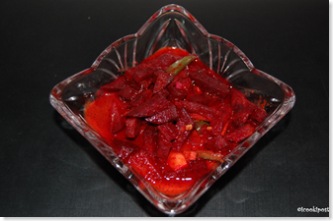 Beetroot is an excellent source of vitamin A and vitamin C. This is an easy and delicious pickle and it can be served with chappathi or rice.
Ingredients:
Beet (chopped into small pieces) – 200 gms
Garlic (cut lengthwise) – 7-8 nos.
Green chilly (cut lengthwise)- 3
Ginger (chopped) – 2 tbsp
Pickle Powder – 3 tbsp
Kashmiri red chilly powder – 2tsp
Sugar – 1/2 tbsp
Vinegar – 1 cup
Salt
Preparation:
Mix all the ingredients and stir well. Keep the pickle in an air tight bottle. Here I used Saras pickle powder and you can add more chilly powder if you like more spicy.
Your pickle is ready to eat from the next day onward and as days pass it tastes great.
Note: To avoid staining your fingers, wear gloves when handling beets.