Brown Puttu and Potato stew
Puttu is a speciality of kerala cuisine and a favourite breakfast of keralites. It is served with kadala curry , cherupayar(Green gram)curry, potato stew, pappadam or boiled bananas. This is considered as an healthier breakfast as brown rice is rich in nutrients & vitamins.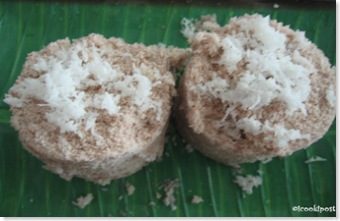 Ingredients:
Brown rice flour(here I used nirapara chemba puttu flour)- 2 cups
Grated coconut – 1 cup
Salt
Water
Preparation:
Add salt to water and sprinkle the water little by little over the rice flour and mix with hand .The flour should be wet enough for steaming.so we have to be very careful while adding water.
For making puttu, i used a pressure cooker and puttu maker or puttu kutti which is cylindrical in shape.
Fill the puttu maker with grated coconut first. then put rice flour followed by another handful of grated coconut.Repeat this until you fill the puttu maker.
Heat the pressure cooker with sufficient water without placing the weight. Allow the steam to come through the nozzle.
Then place the puttu maker on the steam nozzle of the cooker.cover it with a lid.When the steam comes out through the holes of the lid,wait for another 3-4 minutes and take out the puttu.Once it is done,you will get the aroma of the cooked puttu.
Using a stick (stick comes with the puttu maker set) push out slowly from the bottom of the cylinder on to a plate.
Potato Stew (Potato Ishtu)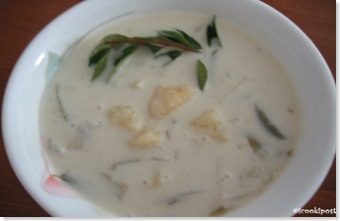 Ingredients:
Potato (cut into cubes)- 3
Onion(chopped) – 2
Green Chilly (cut lengthwise)-3
Ginger – 1 inch piece
Thick coconut milk – 1 cup
Curry leaves – to garnish
Salt
Preparation:
Pressure cook potatoes, onion, green chilly and chopped ginger with sufficient amount of water.
Add coconut milk,  mix well and cook for 2-3 minutes.
Garnish with curry leaves.