Cabbage Vada/Cabbage Fritters/How to make Cabbage Fritters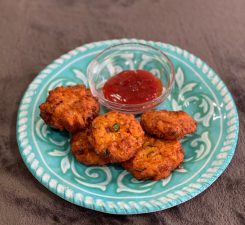 A deep fried evening snack made using cabbage and urad dal.
Ingredients
Cabbage(finely chopped) – 1 cup
Onion(finely chopped) – 1
Green Chilly(chopped) – 3
Ginger(finely chopped) – 1/2 tsp
Curry leaves
Kashmiri chilly powder – 1 tsp
Asafoetida powder – 1 pinch
Besan/chickpea flour – 5 tbsp
Rice flour – 1 tbsp
urad dal Powder – 1 tsp
Salt
Coconut Oil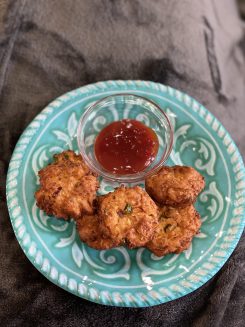 Preparation
 In a bowl,add cabbage,onion,green chilly,ginger,curry leaves and mix well using hand.The mix will be wet and you dont need to water.
Add besan,rice flour,urad dal powder ,chilly powder,asafoetida and mix well.
Take small portion of the mix and Shape into round vadas.
Heat oil on medium heat.Fry vadas  till it turns golden brown in color .Drain on paper towel to remove excess oil.
Serve with tomato sauce.