Mushroom 25
This rich and spicy curry has 25 ingredients in it and hence its name mushroom 25.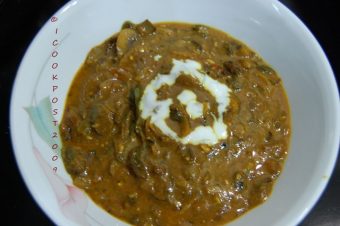 Ingredients:
Butter Mushroom – 250 gms
Onion(chopped) – 4
Shallots – 15
Green chilly – 5
Tomato( chopped) – 3
Ginger paste – 1 tsp
Garlic paste – 1 tsp
Butter – 2tbsp
Cashew nuts – 10
Almond – 15
Plain flour ( Maida) – 1/4 cup
Turmeric powder – 1 1/2 tsp
Pepper powder – 1 tsp
Chilly powder – 1tbsp
Coriander powder – 2tbsp
Garam Masala powder – 1 tsp
Kasoori methi – 1/2 tsp
Oil
Coriander leaves – 1tbsp
Pudina leaves – 1tsp
Lime juice – 1tsp
Sugar – 2 pinch
Curry leaves
Salt
Fresh cream
Preparation:
Soak cashew nuts, almond in warm water for 10 minutes. Grind it to a fine paste
Heat oil in a pan and saute 3 chopped onions, sugar, 1 pinch of salt till golden brown in color.Grind it to a powder.
Mix well maida,1/2 tsp pepper powder, salt, water and marinate mushroom pieces with the mix. Fry in oil till light brown in color.
Heat butter in a pan. Add 1 chopped onion,chopped shallots and saute well..Add ginger garlic paste,green chilly ,chopped tomatoes and saute well.
Once it is done add the powdered onion mix to it. Add turmeric powder, coriander powder, red chilly powder, garam masala powder,chopped coriander leaves, chopped pudina leaves, lime juice and saute. Once raw smell goes away, add fried mushroom, salt, 1/2 cup water and stir well.
Cover and cook on low flame for 10 minutes.
Add almond, cashew paste, kasoori methi, curry leaves and cook till gravy is dry.
Transfer it into a serving bowl and garnish with fresh cream.