Unniyappam/How to Make Kerala Unniyappam/Karolappam
This is the traditional style of making unniyappam.Unniyappam is  popular in kerala cuisine.In some parts of malabar, it is called "Karolappam".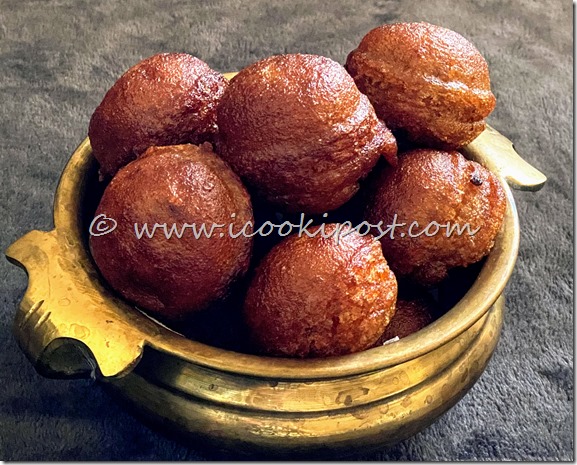 Ingredients:
Raw Rice/Iddli Rice  – 2 cups
Jaggery(sharkkara)   – 250 gms
Small Banana ( Mysore pazham) – 2 -3 nos
Coconut pieces(Thengakothu) – 1/4 cup
Cardamom Powder – 7-8 nos
Salt – 1 pinch
Ghee or coconut oil (for frying) – 1/2 litre
Preparation:
Soak rice for 4 hrs. Grind into a coarse paste.
Melt jaggery with enough water to make syrup and strain to remove impurities. Let it cool.
Dry roast coconut pieces in ghee till brown in color.
Blend banana into a fine paste.
To make a batter of thick consistency as you see in the below pic, mix well all the ingredients except coconut pieces and cardamom powder.
Finally add thengakothu and cardamom powder and keep aside for 8 hrs.
Heat kaarol(uniyappam pan) and fill ghee in each moulds and once it is hot, pour 1 tbsp of batter into each molds
Reduce the flame and allow it to cook.
Once it is golden color on one side, turn on to the other side and fry till golden brown in color.
Remove from ghee and drain it to a tissue paper.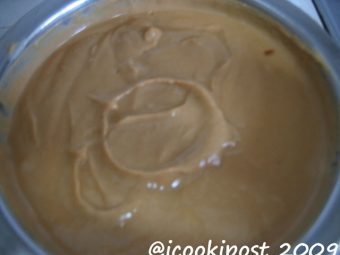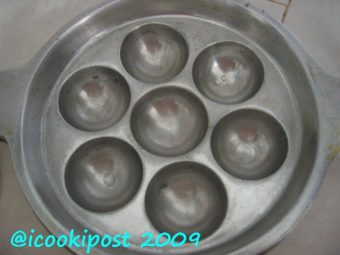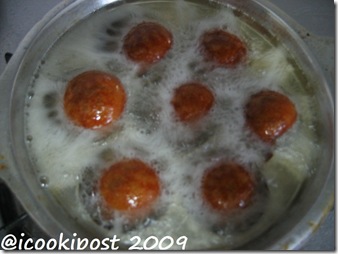 For Recipe Video :https://youtu.be/udZldTi6R7c