Cauliflower- Green Peas Masala ( Gobi-Mutter Masala)
Mutter (Green peas) is a common ingredient in most of the north indian recipes. I posted  Mutter Paneer a while ago and it's Mutter-Gobi now:-). Every time I make a recipe using cauliflower, it ends up as Gobi Manchurian :-(. So, this time I thought of using green peas with it – sort of an experiment, but I should say I'm glad, I did. It came out very well and tastes great too. It can go very well with roti or paratha.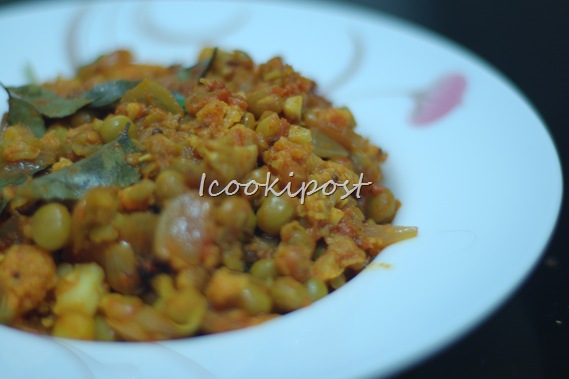 Ingredients:
Cauliflower Florets – 2 cup
Green Peas – 1/2 cup
Onion (chopped) – 2
Tomato Puree – 1/2 cup
Ginger-Garlic Paste – 1 tsp
Turmeric powder – 1/2 tsp
Red chilly powder – 1 tsp
Sugar – 1/2 tsp
Curry leaves
Oil – 3 tbsp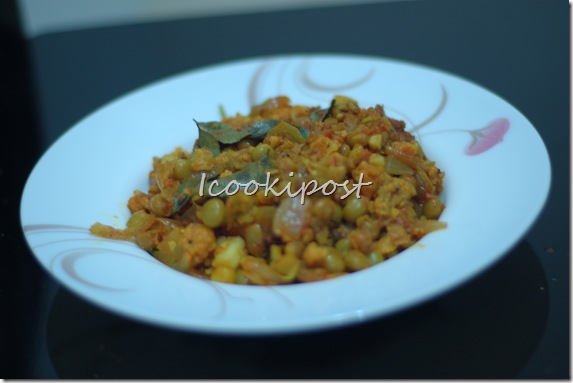 Preparation:
Boil green peas and keep aside.
Heat oil in  a pan. Add ginger garlic paste, chopped onions and saute well.
Add tomato puree, red chilly powder, turmeric powder,sugar,  salt and stir for sometime.
Then add cauliflower florets to it and cook with little water till florets are soft.
Finally add boiled green peas to it and allow it to boil on low flame for 2-3 minutes.
Garnish with curry leaves.
Serve with chappathi or roti.