Sweet Potato Gulab Jamun
Sweet potato jamuns are prepared using boiled sweet potatoes,maida and milk powder and soaked in sugar syrup.These are easy to prepare and tastes great.
Ingredients
sweet Potato (3 medium size,Boiled) – 1 cup
Maida/All purpose flour – 1/4 cup
Milk Powder – 1/4 cup
Ghee – 2 tsp
Baking Powder – 1/4 tsp
Oil – for frying
For sugar syrup
Sugar – 3 cup
Water – 11/2  cup
Rose Essence – 1/2 tsp
Cardamom powder – 1/2 tsp
Lime juice- 1/2 tsp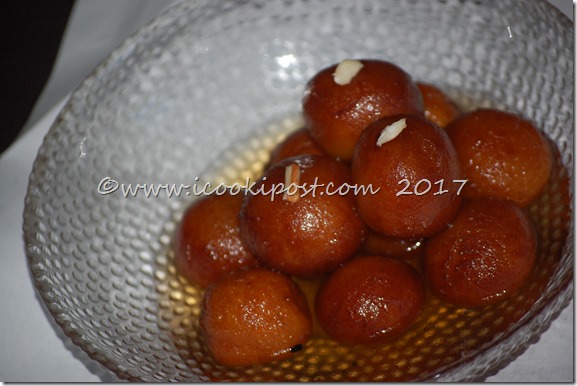 Preparation
In a pressure cooker,add sweet potatoes with 1 1/2  cup of  water  . cover and cook for 3 whistles. let it cool down and open the lid. Drain the water. peel off the skin of potatoes and mash well or you can grind it.
In a bowl, sieve all purpose flour and add milk powder,baking powder to it and mix well.
Add mashed sweet potatoes to it and knead  well using hand  to get a  smooth dough without lumps. cover with a lid and keep aside for 10 minutes.Then Make small balls out of the dough.
Prepare sugar syrup by boiling water and sugar.once it reaches half string consistency, it is done.Remove from fire.
Add cardamom powder,rose essence and lime juice(to avoid crystallization of sugar) to it.
Heat Oil in a pan. Drop a small ball to the oil and if it comes up,it is ready to fry.
Reduce the flame to low and place the balls to the oil .Fry till golden brown in color.place the fried balls on a paper towel to absorb the excess oil.
Transfer the balls into warm sugar syrup.
soak them in sugar syrup for a maximum of 4 hours.
Garnish with Almonds.
Serve chill.