Chicken Chettinad (ചെട്ടിനാട് ചിക്കന്‍)
Every region of India has its own local delicacies but chicken chettinad is no stranger among Indians. It is one of the most popular dish from Tamilnadu.Chicken Chettinad does require a lot of spice and most versions of it across India turns out very hot and yummy. The aroma of unique mix and blend of spices does give it a mouthwatering taste.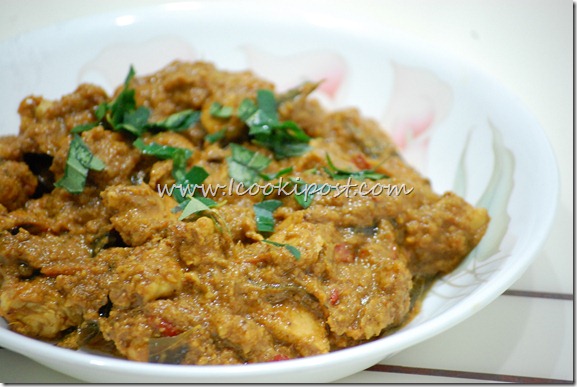 Ingredients:
Chicken – 1/2 kg
Onion – 2
Tomato – 3
Ginger – 1 1/2 " piece
garlic pods – 5
Turmeric powder – 1/2 tsp
Kashmiri chilly powder – 1tsp
Coriander leaves
Curry leaves
Lime juice – 1/2 of a lime
Salt
oil
For the Spice Mix
Dry red chilies –3
Cinnamon – 1" piece
Cardamom pods – 5
Cloves – 3
Peppercorns –1/2 tsp
Coriander seeds – 1/2 tsp
Fennel Seeds – 1/2 tsp
Poppy Seeds – 1tsp
Grated Coconut – 1 tbsp
Oil
Preparation:
Heat 1 tbsp oil in a pan and roast the spices on low heat until aromatic.Let it cool and grind to a fine powder.
Heat oil in another pan and saute chopped onions ,ginger-garlic paste, and 2 chopped tomatoes till light brown.Grind it to a  fine paste.Keep aside.
Heat oil in a pan and add curry leaves and chopped tomato. Stir fry for 2-3 minutes until pulpy and then add the powdered spice mix.Fry on low heat for 2-3 minutes until the mixture starts releasing oil.
Add the onion paste ,salt,chilly powder,turmeric powder,water and cook on low flame for 5 minutes.
Finally add the chicken pieces and cook till chicken is done.Stir in lime juice.
Garnish with curry leaves or coriander leaves.
Serve with rice,chappathi or roti.