Chilly Cauliflower (Chilly Gobi)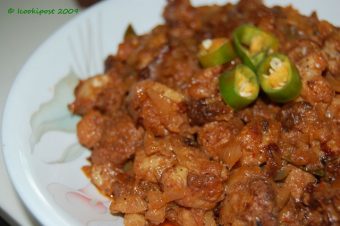 Ingredients:
Cauliflower (medium) – 1
Egg – 1
Pepper powder – 1/2 tsp
Plain flour ( Maida) – 1/2 cup
Vegetable cube (i used maggi cubes for making stock) – 1
Onion(chopped) – 2
Ginger – garlic paste – 1 tbsp
Green chilly – 3
Soy sauce – 1 tbsp
Chilly sauce – 1 tsp
Tomato sauce – 1tbsp
Corn flour – 1tsp
Sugar – 1 tsp
Curry leaves
Oil
Red color(optional)
Preparation:
Make a batter  with pepper powder, beaten egg, maida, vegetable stock(or water ) and salt.Another method  is to make a batter with maida, corn flour ,pepper powder and salt.
Dip gobi pieces in the batter and fry in oil till light brown.
Heat oil in a pan and add chopped onions,ginger-garlic apste, green chillies, curry leaves and saute well.
Add vegetable stock, soy sauce,chilly sauce, tomato sauce to it and stir well.
Mix corn flour with water and add to it. Add fried cauliflower pieces,salt to tit and cook till dry.
Add sugar to it and mix.
Serve with Fried rice.