Egg Curry (മുട്ട കറി)
This is a delicious egg curry  with a thick,rich and spicy gravy and adding evaporated milk to it enhances the taste .This goes well with rice or Indian bread.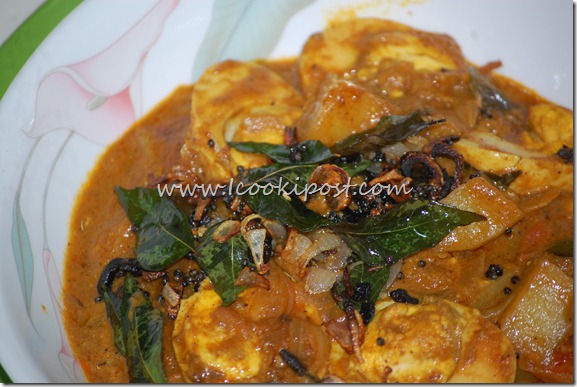 Ingredients:
Eggs (boiled and peeled) – 3
Potatoes(medium) – 2
Onion(chopped) –2
Tomatoes – 2
Evaporated Milk – 1/4 cup
Ginger – 1" piece
Garlic  – 3 cloves
Cinnamon – 1 stick
Cardamom – 2 pods
Star Anise – 1
Curry leaves – 2 stalks,stem discarded
Mustard seeds – 1/2 tsp
Shallots – 4
Cooking oil
Salt
Water – 1 cup
For the Curry paste
Egg or Meat Curry Powder – 1tbsp
kashmiri Chilli Powder – 1 tsp
Ground Black pepper – 1/2 tsp
Water – 2tbsp
salt
Preparation:
Grind ginger and garlic into a fine paste and keep aside
Grind curry paste ingredients.
Heat oil in  a pan.Stir fry cinnamon,cardamom.star anise and a stalk of curry leaves
Add chopped onions and fry till golden brown.
Add ginger-garlic paste and saute well.Add curry paste and mix well.cook on low flame for 5 minutes.
Add chopped potatoes, chopped tomatoes and water and cook until potatoes are done.
Add hard boiled eggs and evaporated milk. Add salt according to your taste.Simmer for 15 minutes.
Meanwhile,heat oil in another pan .Fry mustard seeds,remaining curry leaves and chopped shallots.Fry till  shallots turn brown.once this is done, pour over simmering curry.
Remove curry from heat and leave for 30 minutes before serving.
Serve with rice or roti.