Kozhi-Kumbhalanga Curry/Chicken Ash-Gourd Curry
This curry is a unique combination of Chicken and Ash Gourd in a spicy masala.This  is popular in kunnakulam-Thrissur side of Kerala state .It tastes great with rice or Roti.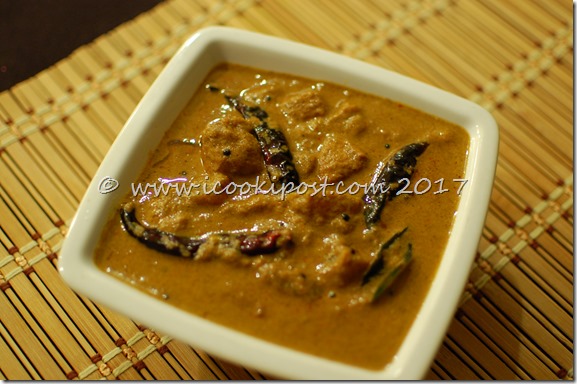 Ingredients
Ash Gourd/Kumbalanga ( cut into medium cubes) – 1/2 kg
Chicken (cut into medium pieces) – 1/2 kg
Onion(chopped) – 1
Tomato – 1
Turmeric powder – 1/2 tsp
Red Chilly Powder – 1 tsp
Coriander powder – 1 tbsp
Coconut milk – 1/2 cup
Coconut oil
Salt
For Roasting
Grated coconut – 1/2 cup
Shallots – 10
Garlic cloves – 10
Ginger(chopped) – 1 tsp
Dry red chilly –10
Coriander seeds – 1tbsp
Fennel Seeds/Perumjeerakam – 1/2 tsp
clove- 1
Cinnamon piece – 2" piece
Peppercorns – 6
curry leaves – 2 sprigs
For Tempering
Mustard seeds – 1 tsp
Dry Red Chilly –2
Curry leaves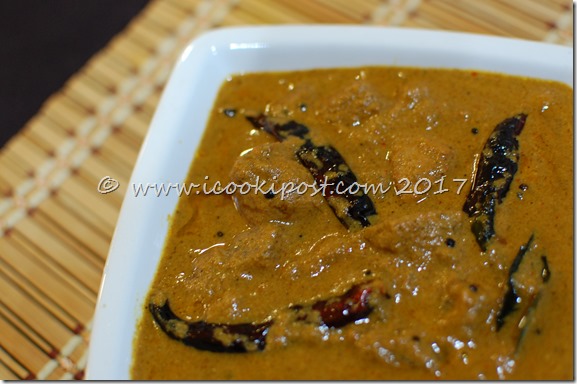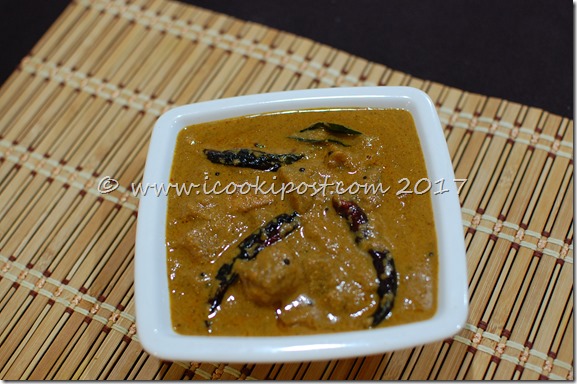 Preparation
First heat a pan on medium flame and dry Roast the ingredients listed for roasting.Take care not to get burned.once it is done,remove from fire. Let it cool.Grind it to a fine paste
Heat coconut oil in a kadai.Saute chopped onion,chopped tomatoes and once it is done,add turmeric powder,red chilly powder,coriander powder, and once the raw smell goes, add chicken pieces to it and mix well.
Add little water to it and cover and cook for 15 minutes.
Once chicken is cooked well,add ash gourd pieces to it and cook for 5 minutes.
Add coconut paste and salt to it. stir well.
cover and cook for 3 minutes on medium flame.
Add coconut milk to it. once it starts to boil,remove from fire.
Heat oil in a pan. splutter mustard seeds, dry red chilly and curry leaves.
Add the tempering to the curry.
serve with Rice.
Recipe Source:"Thaninadan" cookery show