Spicy Mushroom-Capsicum Masala/Khumb-Shimla Mirch Masala/Koon-Capsicum Masala
This is a different style of spicy mushroom masala prepared using spices  in a rich and thick gravy. This tastes best with roti.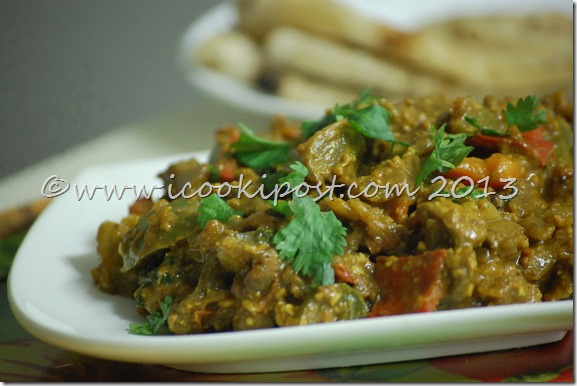 Ingredients
Button Mushroom – 1 cup
Capsicum (chopped,red/green) – 1/2 cup
Onion(Finely chopped) – 1
Tomato(finely chopped) –1
Ginger-garlic paste- 1 tbsp
Green Chilly – 1
Turmeric powder – 2 tsp
Kashmiri red chilly Powder – 1 tbsp
Coriander powder – 2 tsp
Cumin powder – 1/2 tsp
Garam Masala powder – 1 tsp
Fennel seeds(perum jeerakam) powder –1 tsp
Pepper powder – 1tsp
Cashewnut  or Almond paste – 1 tbsp
Salt
Butter – 1tbsp
Oil – 1 tbsp
Coriander leave s- to garnish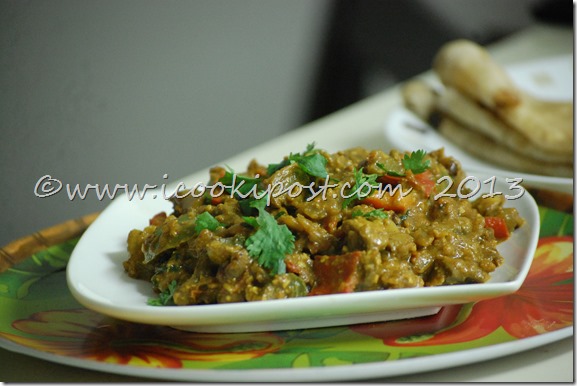 Preparation
Clean the mushrooms and cut into 4 pieces. Marinate mushrooms with 1/2 tsp turmeric powder,1 tsp red chilly powder,1 tsp pepper powder ,1/2 tsp fennel seeds powder and salt. Keep aside for 30 minutes.
Heat little oil in a pan. Stir fry  the marinated mushrooms in oil for 2 minutes till mushrooms turn light brown.Transfer it to a bowl.
Heat butter in a pan. Add capsicum to it and saute on medium flame for 2 minutes.Transfer the sauteed capsicum into a bowl.
In the same pan, heat oil and saute  ginger garlic paste, chopped onions and once onion turns light brown add finely chopped tomato to it.
Mix  turmeric powder,red chilly powder,coriander powder,fennel seeds powder,cumin powder with water to make a paste. This is to avoid burning of spice powders while adding to the pan.
Add the  paste to it and mix well.Add cashewnut paste to it .Stir well.
Add sauteed mushrooms and capsicum cubes to it.Add little amount of water to it.Cover and cook on low flame for 2-3 minutes.
Remove from fire.
Garnish with coriander leaves.