Bread Rolls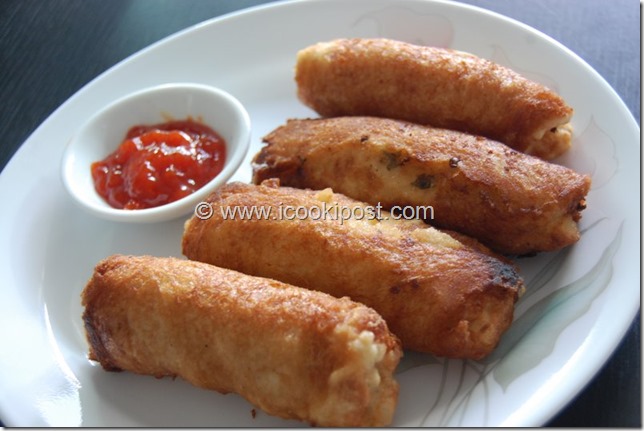 Ingredients:
Bread  –  6 slices
Potato –  5
Shallots – 4
Coriander leaves –  1 tbsp
Garlic pods –  4
Green chilly – 4
Garam Masala – 1/2 tsp
Red chilly powder –  1 tsp
Maida –  2 tbsp
Salt
Oil
Preparation:
First remove the bread crust.
Boil potatoes and mash well.
For the filling, mix  chopped shallots, coriander leaves,chopped garlic, red chilly powder, green chilly,garam masala powder, boiled potatoes and salt.
Soak bread pieces in water and squeeze it by pressing between the palms.
Place the potato mix in the centre of the bread slice and roll it .seal the edges using maida.
Heat oil in a pan and deep fry till golden brown.
Serve with chilly sauce.