Mint Rasam/Pudina Rasam
Mint rasam is entirely different from the normal rasam and is prepared using mint leaves which enhances the flavor of rasam.It goes well with rice and also can be served as a spicy soup or appetizer.This recipe is adapted from Chandra Padmanabhan's cook book  "Southern Spice".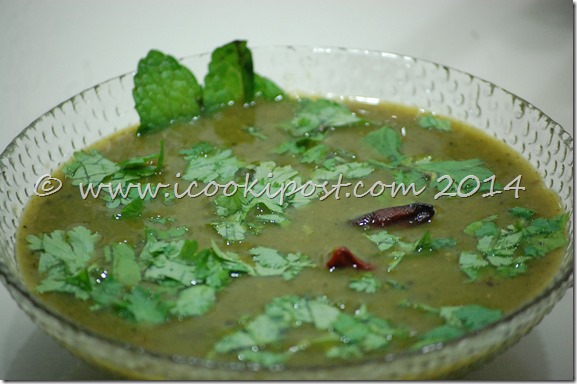 Ingredients
Toor Daal/Thuvara Parippu – 1/4 cup

Turmeric powder – 1/2 tsp

Lime Juice – 1 1/2 tbsp

Salt – to taste

Coriander Leaves(finely Chopped) – 2 tbsp
Ground to a smooth Paste
Mint Leaves – 1/2 cup

Green Chillies(chopped) – 2

Coriander seeds –1 1/2 tsp

Cumin seeds – 3/4 tsp

Black Peppercorns – 1/2 tsp

Water – 2-3 tbsp
For Tempering
Ghee – 2 tsp

Mustard seeds –1/2 tsp

Cumin seeds – 1 tsp

Asafoetida powder – 1/2 tsp

Dry Red Chilly (halved) – 1

Curry leaves – 1 sprig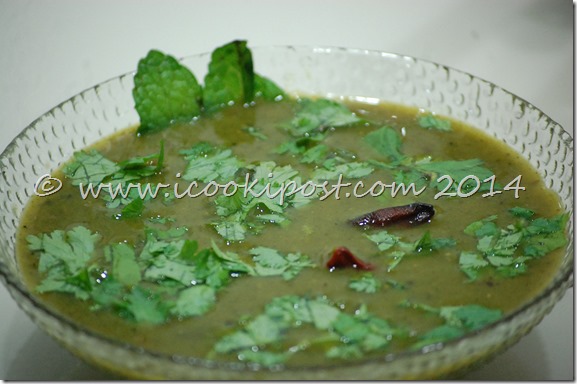 Preparation
Wash daal and drain.Place in a pressure cooker with turmeric and 1 cup of water and cook under pressure for 5 minutes.

Transfer daal into a heavy based pan.Add 2 cups of water and whisk well.

Blend in mint and spice paste,and salt.

Place pan over high heat and bring to boil.Add more water if rasam is too thick.Lower heat,simmer till rasam froths up, and remove from heat and stir in lime juice.

For tempering,heat ghee in a pan on medium heat.Add remaining ingredients for tempering.

When mustard seeds starts spluttering,stir contents of the pan into rasam.

Garnish with coriander leaves and serve hot.
Recipe Source: Southern Spice by Chandra Padmanabhan