Sago Potato Rolls (Sabudana-Aloo Rolls)
Sago also known as Tapioca pearls is made from the starch extracted from the pith (center) of the sago palm stems.It is used for making pudding,khichadi or vada.Sago is rich in carbohydrates and it is often served for breaking fasts during Indian religious festivals.This is a perfect snack for a cocktail Party and it tastes great with Green Chutney.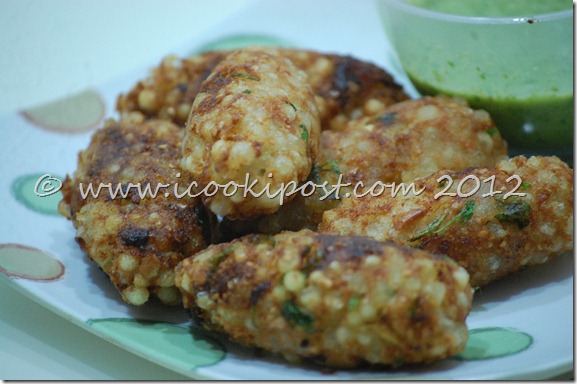 Ingredients
Sago(Sabudana) – 3/4 cup
Potatoes(boiled and mashed) – 3
Peanuts(roasted and peeled,Crushed) –1 /2 cup
Green Chilly (chopped) –3
Ginger(chopped)- 1" piece
Lemon Juice – 1 tbsp
Coriander leaves(chopped) –3 tbsp
Salt-to taste
Oil – for deep frying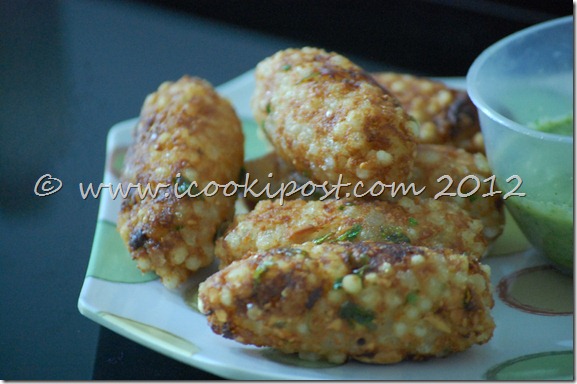 Preparation
Wash the sago and soak in water for atleast 1 hour.If in a hurry,soak in hot water till they swell.It will absorb water and becomes soft.Squeeze out water.Each pearl should be separate.
Place the sago in a large bowl.Add potatoes,peanuts,green chillies,ginger,lemon juice,coriander leaves and salt.Mix well
Add a little water if necessary and make a dough.Leave to stand for a few minutes.Divide the dough into eight equal portions and shape into oval rolls.
Heat oil in a non-stick kadai till medium hot. Slide in four rolls at a time and deep fry till golden brown.Drain on tissue paper.
Serve with Green Chutney
Recipe for Green Chutney
Ingredients
Coriander leaves- 1 cup
Mint leaves- 1/2 cup
Green Chilly – 3
Salt
Sugar – 1/4 tsp
Lemon juice-1tbsp
Grind all the above ingredients to a smooth paste using a little water if required.
Recipe Source: Cocktail Snacks by Sanjeev Kapoor