My 250th Post – Meen Mulakittathu/Mathi Mulakittathu/Spicy Red fish curry/Spicy Kerala Sardine Curry
It has been more than 5 years since I started blogging and still can't believe that this is my 250th post. I want to thank all of my wonderful readers for the support and encouragement over the years.Here I am sharing a recipe of spicy and yummy Kerala style Sardine fish curry.
Meen Mulakittathu is a Kerala style fish curry prepared without coconut in a spicy gravy.It is very difficult to get good Sardines(Mathi/Chaala in Malayalam)here in US. The one I bought it from Chinese fish market looks alike,but doesn't taste like the one which is available in Kerala.Sardines are rich in Omega fatty acids and low in mercury.It tastes great if you prepare in a Manchatti(Clay Pot).This spicy curry goes well with Rice or Kappa Puzhukku.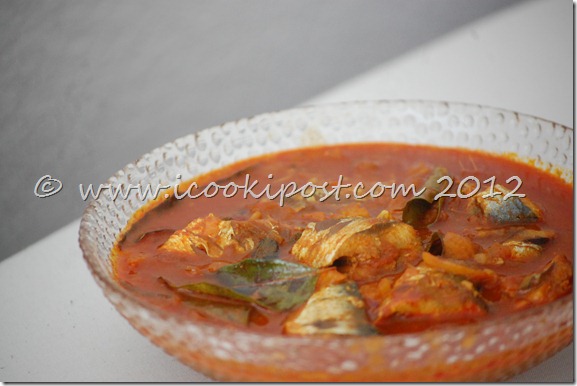 Ingredients
Fish (sardine) – 8 nos.
Shallots –6
Ginger – 1"piece
Garlic – 5
Green Chilly (cut lengthwise) – 2
Turmeric powder – 1/2 tsp
Kashmiri Red chilly Powder – 1 1/2 tbsp
Coriander powder – 1 tbsp
Fenugreek Powder(uluva podi) – 1/4 tsp
Kudampuli or Tamarind(Malabar tamarind/Kokum/Gamboge)- size of a small gooseberry
Coconut oil – 3 tbsp
Salt
Curry leaves – 2 sprigs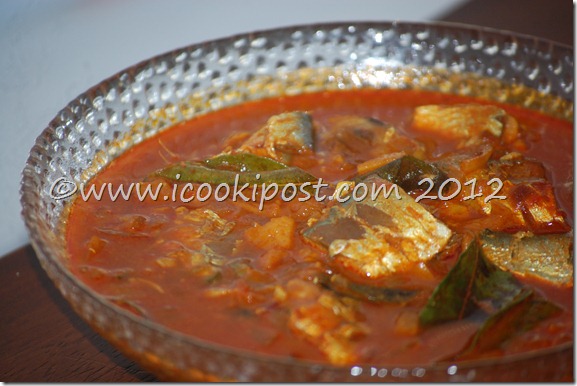 Preparation
Soak tamarind in 1/4 cup of  warm water .squeeze out the juice with your fingers and Strain .
Heat coconut oil in a pan. Saute chopped ginger,garlic,shallots,green chilly and curry leaves.
Once shallots are medium brown,mix turmeric powder,red chilly powder,coriander powder,fenugreek powder with little water and make a paste and add  to it.This is to avoid burning of spice powders.
Add tamarind extract ,1/4 cup of water to it and stir well.once it starts to boil,add fish pieces to it .Add salt.
Don't stir it using a ladle as the fish pieces tend to break.so just swirl the pan to get the fish pieces mixed well with the spices.Cover and cook on medium flame for 10 minutes..
Garnish with curry leaves.
Serve with Rice.