Neer Dosa And Kara Chutney
Neer Dosa is a popular breakfast delicacy of Mangalore cuisine. These thin lacey crepes are prepared by grinding rice and grated coconut into a smooth batter.The dosa batter should  be watery consistency and hence the name "Neer dosa". This goes well with kara chutney or vegetable Kuruma.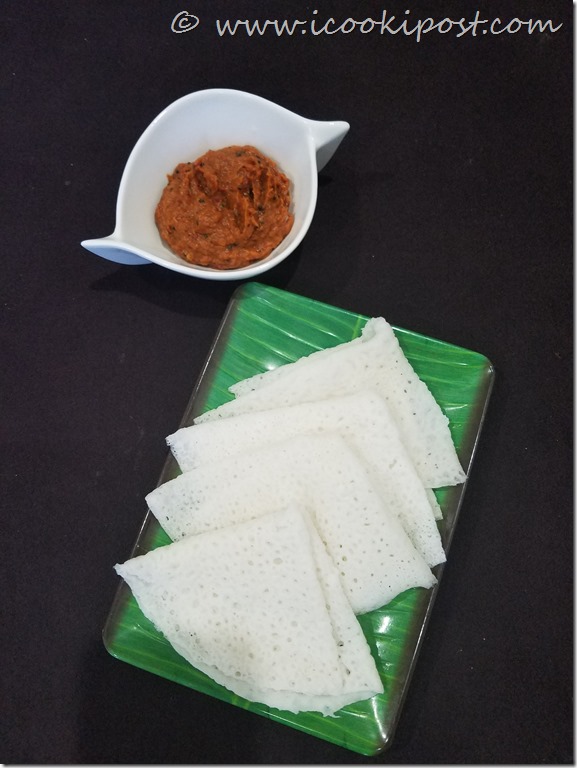 Ingredients:
Raw Rice/Sona Masoori Rice – 1 cup
Grated Coconut – 1/4 cup
Salt
Water – 2 cups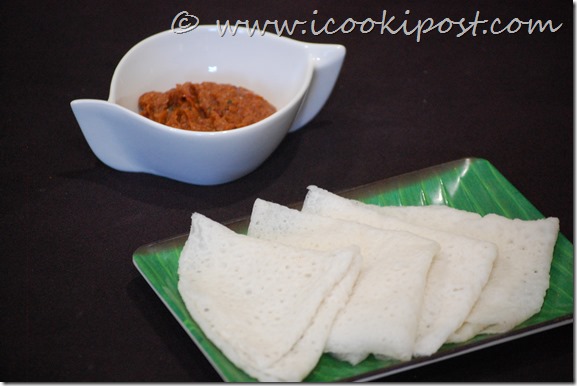 Preparation:
Soak rice overnight. Next day, drain water and rinse rice well.
Make a smooth batter by grinding rice in a grinder with enough water.
Move the batter into a bowl and add a little more water.The batter should be watery like consistency.
Add salt and stir well.The batter doesn't need to be fermented.
On a hot non-stick pan pour a ladle full of batter in a circular motion.
Hold the handle of the pan and tilt it so that the batter will flow to spread evenly.
If the batter is right consistency, you should see holes forming on the surface. Make sure you stir well each time you make a new dosa..
Cover with a lid and let it cook for 2 minutes.
Don't flip over like you do for other dosas.
Once  cooked properly, it'll start to peel off the pan.Don't let it brown.
Using a spatula, fold the dosa into half and again into another half  to form a triangle.
Remove from the pan

.

Move dosa into a vessel/plate.
Make sure you do not stack too many dosas as it tends to stick to each other.
Serve with kara chutney or Kuruma.
Kara Chutney:
Ingredients:
Onion(medium) – 1
Garlic – 3
Dry Kashmiri Red Chilly – 3
Tomato – 1
Tamarind – 1 small piece
Salt
Oil – 3 tsp
Mustard seeds –1/4 tsp
Preparation:
Heat 1 tsp oil in a pan.Saute all the ingredients numbered 1 to 5 and grind it into a fine paste.
Add salt to it and mix well.
Heat oil in a pan. Splutter mustard seeds and add it to the chutney.
Kara chutney is ready to serve with Neer dosa.